The key to this recipe is using chicken thighs instead of breasts. The flattened thighs are much more juicy and tender.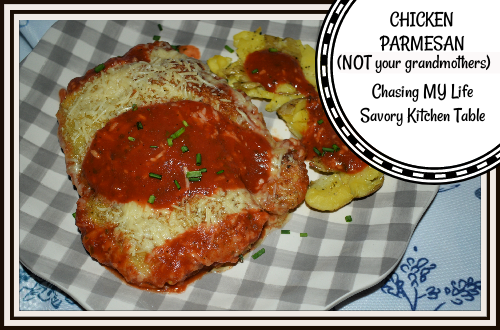 NOT YOUR GRANDMOTHER'S CHICKEN PARMESAN
FRESH ground sea salt and black pepper
1 tablespoon Garden Gourmet Italian Herbs
4 LARGE chicken thighs, flattened to less than 1/2 inch
1/2 cup WONDRA flour
3 eggs, beaten
2 cups Panko crumbs
Avocado oil, for frying
4 cups of your favorite red sauce
1 cup FINELY grated Parmesan cheese
8 ounces QUALITY Mozzarella cheese, sliced
Preheat oven to 375°.

Whisk together the eggs and Italian herbs.

Set up a dredging station with the flour, beaten eggs and Panko crumbs in separate shallow dishes.

Generously season chicken thighs with FRESH ground sea salt and black pepper.
Heat LARGE, DEEP skillet with oil over medium-high heat to 375°.

Dredge each chicken thigh in flour, then egg, followed by Panko crumbs.

Add chicken thighs to skillet and brown 2-4 minutes per side until golden.

Transfer to paper toweling to drain of excess oil.
Spread most of the tomato sauce on bottom of 9×13 baking pan.

Sprinkle one third of the Parmesan cheese over sauce.

Layer chicken cutlets in a single layer over sauce.

Top with mozzarella cheese pieces.

Dot with remaining sauce.

Sprinkle with remaining Parmesan.

Bake 15 minutes or until bubbly and cheese is golden.