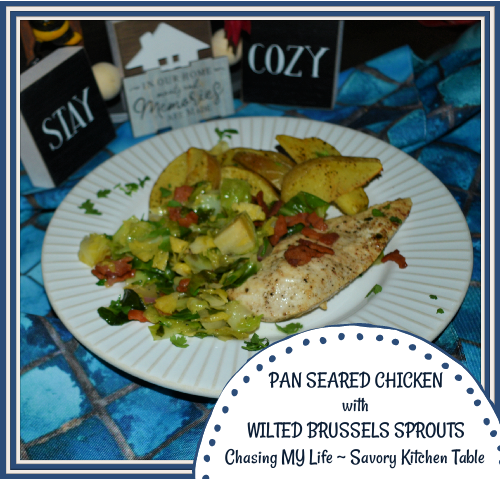 PAN SEARED CHICKEN with WILTED BRUSSELS SPROUTS
3 strips bacon
4 thin chicken steaks
FRESH ground sea salt and black pepper
1 tablespoon avocado oil
1 tablespoon butter
1 LARGE bunch green onions, sliced
2 cups (1/2 pound) Brussels sprouts, trimmed and chopped
1/2 cup chicken broth
In a large skillet fry bacon crisp and set aside to cool on paper toweling.

Pour off all but 1-2 tablespoons of the bacon fat.

Season chicken breasts with the FRESH ground sea salt and black pepper.

Add chicken breasts to bacon fat and sear on each side 2 minutes.

Remove chicken breasts and let rest.

Add oil and butter to pan and allow to melt and heat up.

Add onions and Brussels sprouts, sauteing 1-2 minutes until soft.

Add broth and nestle chicken breasts in the veggies.

Cover and simmer for 5-10 minutes until chicken is cooked through and veggies are crisp tender.

Sprinkle bacon pieces on top and serve immediately.