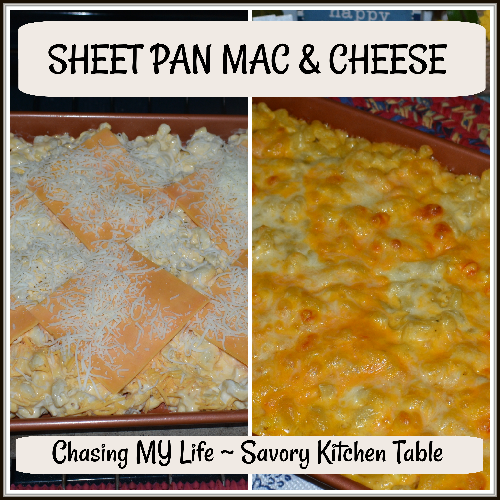 SHEET PAN MAC & CHEESE
2 LARGE cans evaporated milk (12 ounce)
1 cup cubed Velveeta pieces
2 1/2 cups grated Cheddar
2 1/2 cups grated Gruyere
1 teaspoon dry mustard (optional)
1 tablespoon Frank's original hot sauce
FRESH ground sea salt and black pepper
1 pound macaroni, cooked according to package instructions
1 cup grated Parmesan cheese
Nonstick cooking spray
Preheat the oven to 425°.

In a saucepan over a medium heat, add the evaporated milk, processed cheese, 1 cup of the Cheddar, 1 cup of the Gruyere, the dry mustard if using, the hot sauce, salt and pepper to taste, whisking until the cheeses are melted and the mixture is smooth, 2 to 3 minutes.

Add the cooked pasta to the cheese sauce and stir to coat and combine.

In a small bowl, toss together the remaining cheeses.

Remove the sheet pan from the oven and carefully spray with the cooking spray.

Pour the mac and cheese from the saucepan into the sheet pan and spread evenly.

Sprinkle the cheese mixture evenly over the top.

Bake until the cheese topping is fully melted and the mixture is bubbly, 15 to 20 minutes.