This is another 1930's-40's recipe box find written in a stenographer's shorthand and old cursive on old yellowed scrap paper. It took me a bit to decipher it, but it was well worth it. 😀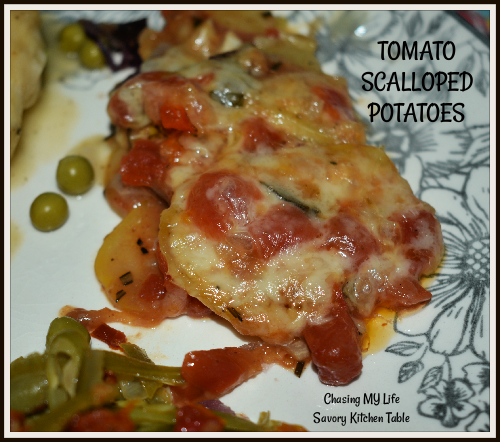 TOMATO SCALLOPED POTATOES
1/2 cup chopped onion I used 2 shallots
2 tablespoons butter I used herbed butter
2 tablespoons flour I used WONDRA which is extra fine
1 teaspoon paprika
1/2 teaspoon salt I used FRESH ground, to taste
1/8 teaspoon pepper I used FRESH ground, to taste
1 cup water I used chicken broth
8 ounce can diced tomatoes I used a 14 ounce can
2 chicken bouillon cubes I only used 1 since I was using broth
5 cups peeled sliced potatoes I used tricolor baby potatoes

Preheat oven to 400°.

Melt butter in large skillet over medium heat.

Add onions and saute 2-3 minutes until soft.

Sprinkle with flour, paprika, salt and pepper, blending well.

Add water, tomatoes and bouillon cubes, simmering over medium heat until thickens.

Spray 2 quart casserole with non-stick spray.

Layer 2/3 of the potatoes loosely on the bottom

Sprinkle with a fine flour and some FRESH ground sea salt and black pepper.

Top with half of the tomato mixture followed by the layer of thin baby Swiss cheese slices.

Follow with remaining tomato sauce mixture over top.

Bake 1 hour or until cooked through and tender.
NOTES:
I have made a few changes that are indicated in red above and find they are tastier than ever.

I also use herbed butter cubes for additional flavor, usually rosemary or tarragon.

I also added a layer of ULTRA thin sliced baby Swiss cheese under the last layer of potatoes.