This recipe is the PERFECT downsized recipe for 2! This flavor combination offers a complex salty AND sweet yet spicy AND pungent flavor with just enough acidity from the lime for balance in the sauce. Add in the sauteed shrimp, the scrambled egg, salty peanuts and crunchy bean sprouts and scallions that balance out the texture and flavors for a complete meal.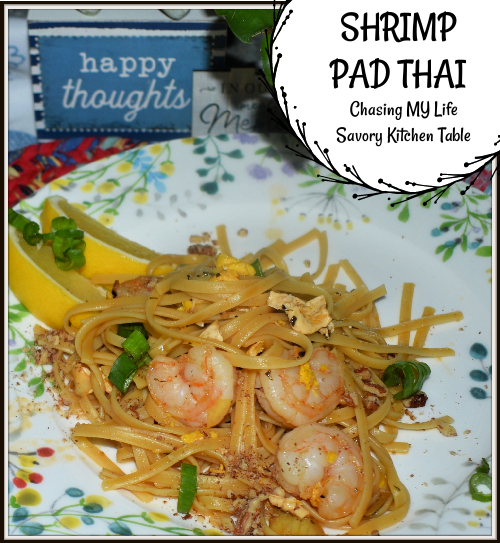 SHRIMP PAD THAI
SAUCE
2 LARGE limes, juiced, about 3 +/- tablespoons
3 tablespoons water
2 1/2 tablespoons packed dark brown sugar
2 tablespoons fish sauce
1 1/2 tablespoons avocado oil (or other neutral oil)
3 teaspoons rice vinegar (I often use seasoned – flavor of choice)
1/8 teaspoon cayenne pepper
Whisk all together and set aside.
NOODLES & SHRIMP
4 ounces WIDE rice noodles
1/2 pound medium shrimp, peeled, deveined and tails removed
2 tablespoons avocado oil
1 shallot, minced
2-3 cloves garlic, minced
1 LARGE egg, lightly beaten
1 cup bean sprouts
2 tablespoons crushed dry roasted peanuts
2 tablespoons FRESH chopped cilantro (for garnish – optional)
Bring 4 quarts of water to boil.Remove from heat, add rice noodles and let stand 10 minutes until noodles are tender. Drain noodles and set aside.

Pat shrimp dry.

Heat 1 tablespoon of the oil in skillet over medium-high heat.

Add shrimp and a pinch of salt, sauteing 2-3 minutes until shrimp are opaque.

Transfer to a plate.

Add remaining oil to skillet.

When oil is shimmering add shallots and garlic, sauteing until light golden brown.

Add in egg and cook 20-30 seconds until scrambled.

Add noodles, tossing to mix.

Add sauce, tossing continually to coat for 1-2 minutes until well blended and coated in sauce.

Add bean sprouts, peanuts, scallions and shrimp, tossing to coat.

Serve immediately.
NOTE: As a quick cheat I use pre-prepared yakisoba noodles from my butcher to replace the rice noodles.