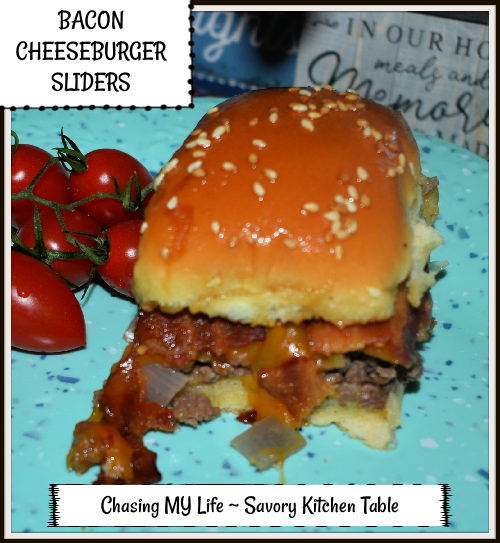 BACON CHEESEBURGER SLIDERS
A slightly sweet and garlicky glaze on these Hawaiian Roll Bacon Cheeseburger Sliders makes the best slider recipe! We're always looking for easy ground beef recipes and these easy sliders take a burger to the next level.
1 package of 12 pack King's Hawaiian roll sliders
4-6 slices bacon, diced
1 pound lean ground beef
1/3 cup diced red onion
FRESH ground sea salt and black pepper
1/2 teaspoon dry mustard (optional)
1/2 cup shredded sharp cheddar cheese
6 slices sharp cheddar cheese
3 tablespoons butter melted
1 tablespoon brown sugar
1 teaspoon onion powder
1 teaspoon garlic powder
1 1/2 tablespoons sesame seeds (optional)
Preheat oven to 350°.

Slice entire package of rolls (do not separate) in half and toast bottoms in broiler for 1-2 minutes.

Cook bacon until crisp.

Remove bacon pieces to paper toweling to drain.

Brown ground beef and onions in bacon drippings and then drain WELL.

Return meat mixture to the pan and lower heat to low.

Season with salt, pepper and dry mustard if using.

Stir in shredded cheese for 1 minute.


Sprinkle bacon on top.

Add slices of cheddar cheese and replace top half of rolls.

Melt butter and stir in brown sugar, onion and garlic powders.




Spoon or brush over the tops of the sliders.




Sprinkle with sesame seeds if using.




Bake for 10 – 15 minutes until rolls are lightly browned and cheese is melted.




Serve warm and enjoy!