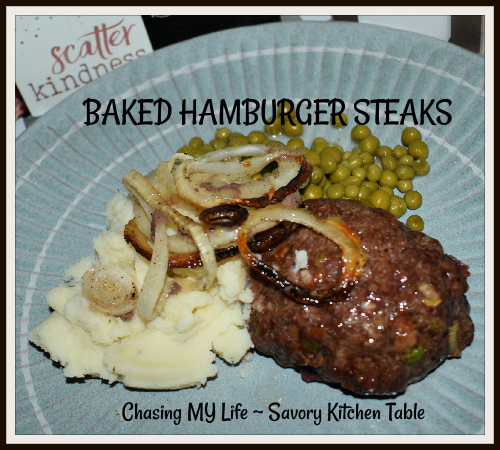 SHEET PAN HAMBURGER STEAK with MUSHROOMS & ONIONS
1 large Vidalia onion – halved and sliced thin
1/2 pound of your favorite mushrooms – sliced
avocado oil
FRESH ground sea salt and black pepper
2 pounds double ground chuck
2 tablespoons Worcestershire sauce
2 teaspoons Lawry's garlic salt
3-4 slices bacon, cooked crisp and crumbled
FRESH ground salt and pepper for each patty
4 tablespoons butter, thinly sliced into eighths
Heat oven to 400°.
Line a baking pan with tin foil.
Place onions and mushrooms on the pan, drizzle with avocado oil, sprinkle with salt & pepper and toss to coat.
Gently mix together the ground chuck, Worcestershire sauce, garlic salt, bacon pieces and a generous sprinkling of FRESH ground pepper.
Form into 6  steaks.
Gently nestle each hamburger steak on top of veggies.
Sprinkle with additional salt and pepper.
Place pan in the oven and cook for approximately 25-30 minutes, until steaks are brown around edges.
Remove from oven and top with pat of butter.
Let rest for 5 minutes and serve with with your favorite side dish.