Be sure to join us for Happy Homemaker Monday and link up
with our host, Sandra at Diary of a Stay at Home Mom

Good morning dear friends! I feel like I've been gone from blogland for months instead of just days, but I'm back!
How was your weekend? We helped my mom with her garage sale for the citywide community sales. The weather was horrible on Friday – cold (50's), windy, rainy and then great on Saturday at almost 80 and almost sunny. We had more people on Friday by far and in the end did quite well with sales. That said I have at least 3 loads of things to drop off to Salvation Army this week, but at least it's over and mom's house is cleaned out.
It's supposed to cool and even a little rainy today and tomorrow and then we're supposed to head into Father's day weekend and the beginning of summer with a serious bang in the 80's and 90's.

Hot water and peach yogurt
THIS WEEK'S TO DO LIST, PROJECTS & APPOINTMENTS


LAUNDRY & CLEANING

I was able to get caught up a bit yesterday with what I didn't get done prepping for the sale. I got the bed changed and caught up on laundry, but I have to be honest I'm exhausted!



GROCERIES & ERRANDS

I have appointments Monday (pedicure), Tuesday (hair) and Wednesday (endocrinologist) mornings where I can also work in a couple errands (groceries, walmart and post office) each day and dropping off a load of Salvation Army each of those days too. Thursday we need to do a few long distance errands and I have baking to do for the Eagles dinner my friend is hosting on Friday night. She's making French Dip sandwiches with individual Angel Food cakes topped with a strawberry & blueberry sauce.



PAPERWORK & PHONE CALLS

I need to sift through a pile and get quite a few things done.



RECIPE RESEARCH & MENU PLANNING

I was able to get the meal plan done for the next 10 days and have several recipes set aside to make the plan through mid July, but haven't had the energy yet to get it done.



NETFLIX

Outside the Wire, Beyond Skylines, Time Trap and a couple episodes of Outlander



REDBOX

The Marksman with Liam Neeson, The Little Things with Denzel Washington, American Traitor, the Trial of Axis Sally and The Courie

DISNEY+

We didn't have a chance to get to Mandalorian this last week.



CABLE

Most shows have finished up for the season, but Christmas in July is coming to Hallmark soon! 😀

I finished THESE TANGLED VINES by Julianne MacClean which I really enjoyed and am following it up with her THE COLOR OF DESTINY.
I hadn't even picked up a camera this week with all the garage sale prep, but I did do a little Pinterest surfing and fell in love with this kitchen! so thought I'd share the picture with you.

And then yesterday evening there was a group of #Teenagers that showed up at the #Front door and wanted to trade new tires or $25 for #ANYTHING. They were on a #ScavengerHunt. They started with a single #Penny and had to go #DoorToDoor trading up to larger and #Odder items. Having just had a #GarageSale Friday and Saturday my car and garage were full of the #Leftovers that I need to haul off to #SalvationArmy starting today. So I told them to keep their tires and their $25 AND take whatever they wanted from the pile of donations. They took the #MudFlaps for a #Bounder #MotorHome a #ChristmasCookieJar a #Vacuum 2 #BeachChairs a #BeachUmbrella #Honda #TireChains and … have fun #FamilyChurch #YouthGroup I hope you won😉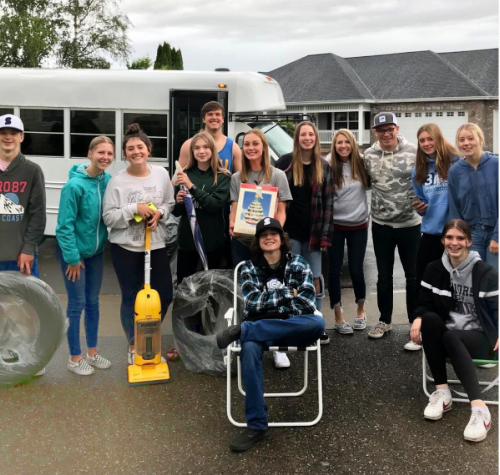 | | | | | | | | |
| --- | --- | --- | --- | --- | --- | --- | --- |
| | MONDAY | TUESDAY | WEDNESDAY | THURSDAY | FRIDAY | SATURDAY | SUNDAY |
| DINNER | SHEPHERD'S PIE & SALAD | CHERRY BBQ CHICKEN THIGHS & PASTA SALAD | KUNG PAO CHICKEN with FRIED RICE & CUCUMBER SALAD | CHICKEN, CORN & BLACK BEAN SALAD | EAGLES dinner (French Dips & Angel Food cakes with Strawberry Blueberry Sauce | BEEF & GREEN BEAN STIR FRY & FRIED RICE | HONEY GARLIC CHICKEN with SALAD & BALSAMIC DRESSING |
| DESSERT | | ANGEL FOOD CAKES | | | | | |


SHEET PAN BAKED HAMBURGER STEAKS with MUSHROOMS AND ONIONS
INSTA POT STICKY PORK LETTUCE WRAPS
BETTY WHITE'S CHICKEN WINGS