I'm still featuring my Mary & Martha GRACE meal prayer box on Faith and Food Friday, hosted by Sandra at Diary of a Stay at Home Mom.

THIS WEEK'S PRAYER:
Bless us, O Lord, and these Thy gifts which we are about to receive, from Thy bounty through Christ our Lord. Amen.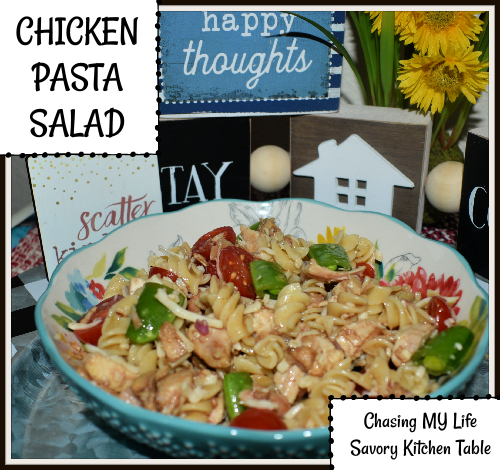 CHICKEN PASTA SALAD
2 cups dry rotini pasta
1/2 pound snap peas, trimmed and halved
1 cup grape tomatoes, halved
2 cups rotisserie chicken pieces
1 LARGE shallot, small diced
1/4 cup FRESH chopper parsley
4 ounces mozzarella cheese, diced or rough grated
1 small jar marinated artichoke hearts, diced (optional)
3 tablespoons tarragon rice vinegar (or flavor of choice)
Juice of 1 LARGE lemon
1/2 cup avocado oil
1/4 cup Italian dressing
1 tablespoon Dijon mustard
FRESH ground sea salt and black pepper, to taste
Cook pasta according to package directions.

Drain and rinse with cold water. Drain well.

Whisk together the oil, vinegar, lemon juice, Italian dressing, mustard (if using), salt and pepper until emulsified.

In a large mixing bowl toss cooled pasta, snap peas, shallots, Parsley, artichoke heart pieces and chicken pieces together.

Pour vinegar mixture over and toss again.

Fold in tomatoes and cheese, tossing to coat well.

Chill several hours before serving.