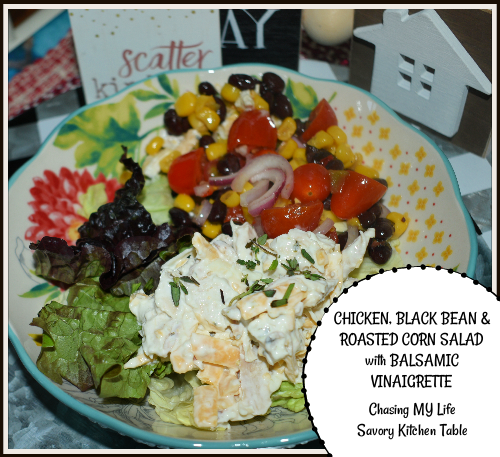 CHICKEN, CORN & BLACK BEAN SALAD with BALSAMIC VINAIGRETTE
CHICKEN, CORN & BLACK BEAN SALAD
2 cups grape tomatoes, halved
1/3 cup FINELY sliced red onion or shallot
1/4 cup FRESH chopped cilantro
1 can seasoned black beans, drained and rinsed WELL
1 LARGE can fire roasted corn, drained WELL
1/2 cup sour cream
Juice of 1 LARGE lemon
2 1/2 cups chopped OR shredded rotisserie OR grilled chicken
1 cup shredded spicy Mexican blend cheese
4-6 cups salad greens of choice
FRESH chopped cilantro for garnish (optional)
Lime wedges for garnish (optional)
1 batch balsamic vinaigrette (see below)

Whisk together sour cream and lemon juice. Set aside.

In a large bowl toss together the beans, corn, red onion, cilantro, tomatoes and vinaigrette.

Toss together the chicken and sour cream mixture until well coated.

Fold in cheese.

Transfer bean mixture to platter.

Top with chicken mixture.

Sprinkle with FRESH ground pepper, cilantro and FRESH lime wedges if desired.
BALSAMIC VINAIGRETTE
GENEROUS 1/2 cup QUALITY balsamic vinegar
3/4 cup avocado oil
FRESH ground sea salt and black pepper
1 tablespoon QUALITY honey
1 tablespoon QUALITY Dijon mustard
1-2 cloves garlic, minced
Add all ingredients to a lidded mason jar and shake WELL.
Refrigerate until needed and shake WELL again before using.