I'm still featuring my Mary & Martha GRACE meal prayer box on Faith and Food Friday, hosted by Sandra at Diary of a Stay at Home Mom.

THIS WEEK'S PRAYER: Our Heavenly Father, kind and good, We thank Thee for our daily food. We thank Thee for Thy love and care. Be with us Lord, and hear our prayer. Amen.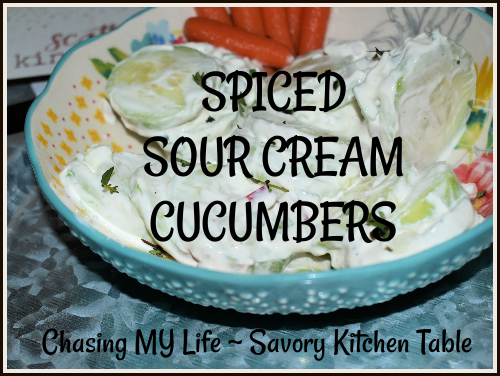 SPICY CUCUMBER SALAD
2 medium cucumbers, sliced thin
1 tablespoon KOSHER salt
4 tablespoons white balsamic vinegar
2 teaspoons sugar
2 LARGE shallots, sliced thin
1 stalk celery, FINELY diced
1 Fresno chile, halved seeded and thinly sliced
3/4 cup sour cream
FRESH ground sea salt and black pepper, to taste 
1/4 cup FRESH chopped parsley (optional)
Add cucumbers to a LARGE colander and sprinkle with KOSHER salt. Allow to drain 15-20 minutes.

Whisk together the sugar and vinegar into a large mixing bowl until sugar is dissolved.

Fold in chilies and green onions. Set aside.

Rinse cucumbers and pat dry.

Whisk sour cream into vinegar mixture.

Fold cucumbers into sour cream mixture tossing to coat well.

Season to taste with FRESH ground sea salt and black pepper.

Cover and refrigerate at least 1 hour until ready to serve.