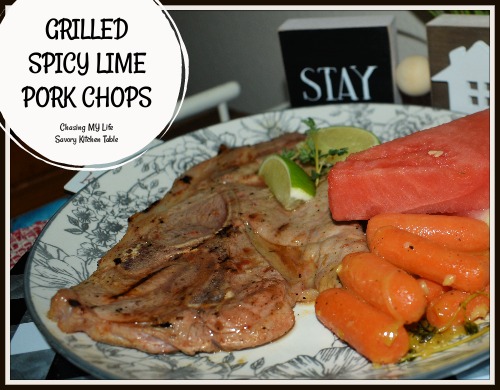 GRILLED SPICY LIME PORK CHOPS
4-6 bone-in pork chops
1 cup Italian salad dressing
1/2 cup pear apple sauce
1/2 cup Worcestershire sauce
1/4 cup Frank's original hot sauce
1 LARGE lime juiced
FRESH ground sea salt and black pepper
Whisk together all ingredients except pork chops in large bowl.
Place pork chops flat in large container with a lid (like a Tupperware marinader).
GENEROUSLY season with FRESH ground sea salt and black pepper.
Pour marinade over chops and put lid on.
Let chops marinate over night (at least 8 hours), inverting ever couple hours if you can.
Pre-heat grill to medium and oil grate.
Remove chops from marinade.
Pour marinade into sauce pan and heat over medium heat to SLOW boil.
Let marinade boil for at least one minute then remove from heat
Place chops on grill and baste occasionally.
Grill for about 5-6 minutes per side until seared, cooked through and no longer pink.