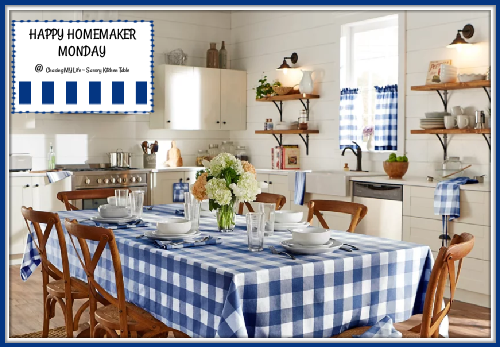 Be sure to join us for Happy Homemaker Monday and link up
with our host, Sandra at Diary of a Stay at Home Mom

Oh my gosh, can you believe it's October? It's only 82 days until Christmas!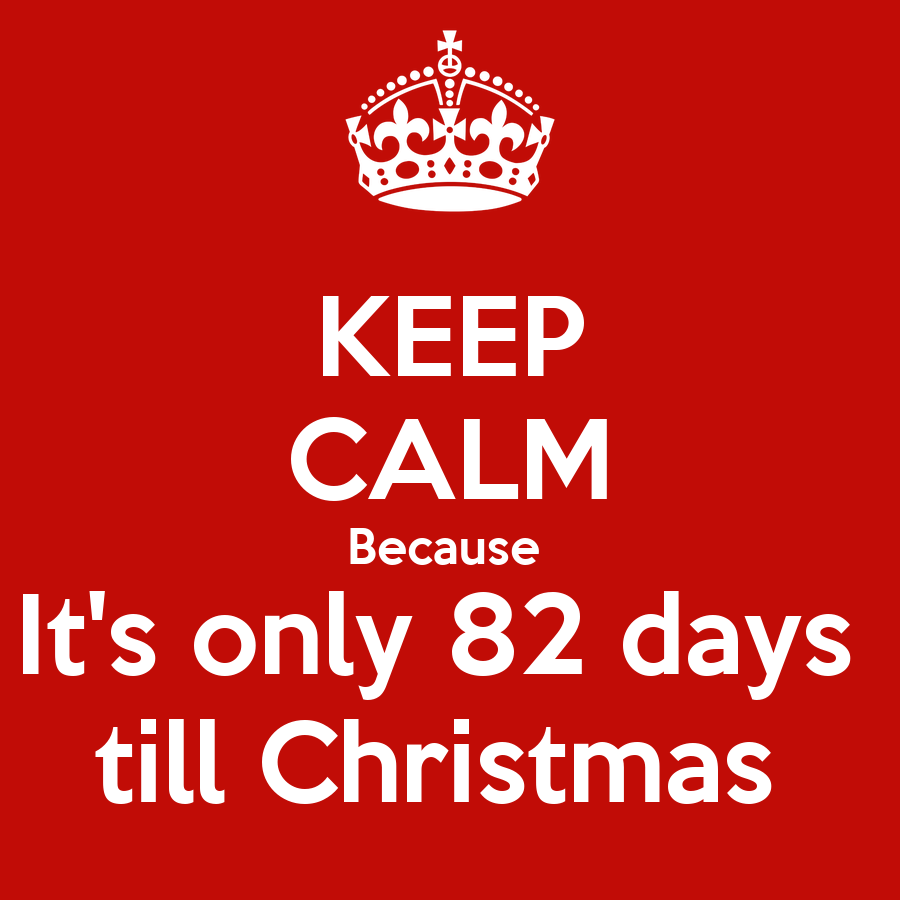 I'm rolling with the punches! The chronic care specialists office manager called me last week and apologized for how things went down and set me up for 4 months (November-March) worth of appointments to see if they can help also with my medical issues. I'll take all the ideas and help I can get!

The new washer arrived on Tuesday and I'm proud to say that all the laundry is caught up!! This was perfect timing as I switch over to the fall linens and blankets. 😀 And especially as we prepare to leave on our trip next week.
We went bowling last week and I realize that I need to get more "specific" exercise as I still have a few muscles that are really aching. I also received my 3rd COVID vaccine shot and have again gotten a bonus! 🙁 NOT I have another COVID ARM, but I guess it's a small price to pay for being safe with a compromised immunity.
COVID arm is a delayed hypersensitivity skin reaction that occurs on or around the injection site. COVID arm is thought to be an immune system reaction. Your immune cells are responding to the muscle cells which have absorbed vaccine and basically the immune system thinks is an infection that needs to be fought.
Symptoms of COVID arm include:
itching, which can be intense (and boy is it!)

a red, discolored rash that can vary in size from the size of a quarter to a very large area (mine is from the shoulder to the elbow)

in some instances, the rash may spread to your hands or fingers




swelling (fortunately I don't have this)

pain (YEP)

skin feels warm to the touch (YEP)

hard lump under your skin where the injection took place (while I don't have a "lump" the whole affected area is "FIRM"

It's official. Autumn is here. It lasted the WHOLE week so I now trust in it 😀 We've had enough rain that the pond is beginning to fill and make the ducks and geese happy. We're forecasted to be in the low 70's and high 60's all week so I'm a HAPPY camper. I've pulled out my favorite levis, cozy socks, denim jelly pops with tanks and coordinating over shirts for layering.

Hot water and peach yogurt for me this morning.
THIS WEEK'S TO DO LIST, PROJECTS & APPOINTMENTS


LAUNDRY & CLEANING

I need to do a couple loads of laundry and vacuum. In November after we return from our trip we will be doing a DEEP CLEAN of the upper ledges in the living room, lighting globes and ceiling fans before having the carpets cleaned.



GROCERIES & ERRANDS I have a

VERY

small list this week because we are preparing to leave on our trip. It is a busy week though. I have a hair appointment, a pedicure and need to get the oil changed on the car and the tires rotated as well as have the battery checked. Hubby has a doctor appointment and needs a haircut too.

PAPERWORK & PHONE CALLS

I have a couple things to get accomplished before we leave and am still trying to get answers from the new doctor about my new meter.



RECIPE RESEARCH & MENU PLANNING

All done for now until November when we return.



NETFLIX

Midnight Mass, Virgin River

DISNEY+

Turner and Hooch



CABLE

The New Season is in full swing! Most of the old favorites are back and a couple new ones too. Unfortunately many of my favorite comedies have been cancelled. 🙁 NCIS, NCIS HAWAII I'm not sure about this one yet and I miss New Orleans already, BULL, THE GOOD DOCTOR, THE RESIDENT, NEW AMSTERDAM, NCIS LA, FBI, FBI MOST WANTED, FBI INTERNATIONAL, MAGNUM PI, BLUE BLOODS, SWAT, CHICAGO MED, CHICAGO FIRE, CHICAGO PD, YOUNG SHELDON, GHOSTS

I need to set up a reading list for our trip and the audible series that we are listening to when we travel. The audible series, Miss Fortune by Jana Deleon, is a funny, cozy sometimes comical mystery with a hint of romance series of books I had already read, but are a fun read so even hubby is enjoying listening to them and I don't mind hearing them this time around.
I didn't take too many pictures this week, but I LOVE this #Metal Art dragon we go by from time to time.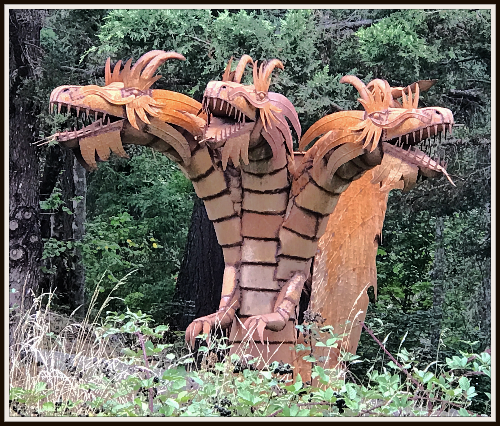 During winter months there are fewer flowers and other sources of food for the bees. Water is also scarce and so many bees drown as they try and drink from swimming pools. Grate an apple and add some water in a bowl. The bees will be able to get the sugars from the fruit and drink the water and not drown as they can stand on the fruit pieces. Our bee populations are threatened, let's give them all the support we can.
with the links to last week's posted recipes, featured party links for the week and upcoming recipes to be posted soon.
MONDAY 10/4


TUESDAY 10/5


WEDNESDAY 10/6


THURSDAY

10/7


FRIDAY

10/8


SATURDAY 10/9


SUNDAY 10/10


DINNER

HAMBURGER SOUP & BEER BREAD


COD with SCALLION SESAME BUTTER & TEXAS POTATOES


C.O.R.N./Y.O.Y.O. CLEAN OUT REFRIGERATOR NIGHT OR YOU'RE ON YOUR OWN BECAUSE I HAVE A PAINTING CLASS

CAFETERIA CHICKEN & GRAVY with SALAD


PEPEROCINI CHICKEN & WILD RICE


HONEY BUTTER GARLIC PORK LOIN, CARROTS & SALAD


DESSERT

RUSTIC NUT BARS AND BAKING FOR THE EAGLES UPCOMING BAKE SALE



CALIFORNIA CHICKEN CLUB RING with AVOCADO CREMA
CHICKEN CORN CHOWDER
BLACK PEPPER BISCUITS & GARLIC CHEDDAR BUTTER
POPCORN RANCH CHICKEN