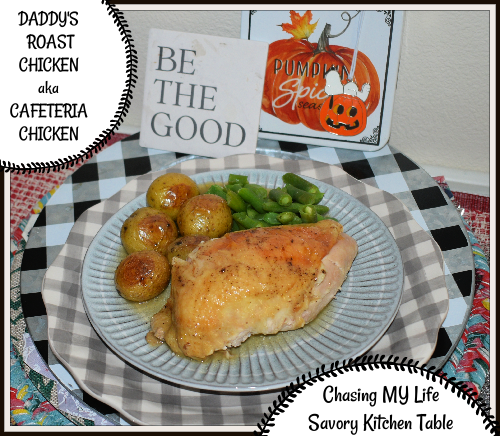 I recently purchased a few new cookbooks. When cookbooks arrive at my house, I read them like a novel, cover to cover. I use colored tabs to mark the recipes I want to try soon. I ran across a recipe called Cafeteria Chicken whose name sounded so interesting that I marked it with a tab to read in depth at a later date.
Well, that date was a few days ago. As I read I was intrigued by how similar this recipe sounded to my great grandmother's recipe for Chicken and Noodles that my dad taught me to make when I was VERY young. It is a family favorite to this day.
I found this in Danielle Kartes' Rustic Joyful Food: Generations cook book. She told a story of a favorite Holiday Lunch Option for her hot lunch when she was in the fourth grade and how that transpired into her chicken gravy and potatoes recipe that her mother requested when she was going through chemo years later.

My recipe, like hers is rooted in family and memories. One meal that becomes two SEPARATE meals. My dad has since passed, but his memory is alive every time I cook. 😀 The base of these meals is a really good mirepoix to begin your flavor base.
A mirepoix is a flavor base made from cooked diced vegetables cooked. They are usually sautéed with butter, oil or other fat like bacon fat for a long time on a low heat without coloring or browning. When the mirepoix is not precooked, the vegetables may be cut to a larger size, depending on the overall cooking time for the dish.
There are similar flavor bases all across cooking. The Italians call it a soffritto, the Spanish and Portuguese call it a sofito/refogado and it consists of a braised onion, garlic and tomato base. The Turkish version uses a tomato paste instead of fresh tomatoes. The German as well as the Polish version include leeks and/or celery or parsley root. The Russian version includes beets or peppers and the French include mushrooms as well as shallots and herbs that have been reduced to a paste. Here in the United States we have the holy trinity Cajun/Creole version of onions, celery and bell peppers that is a favorite.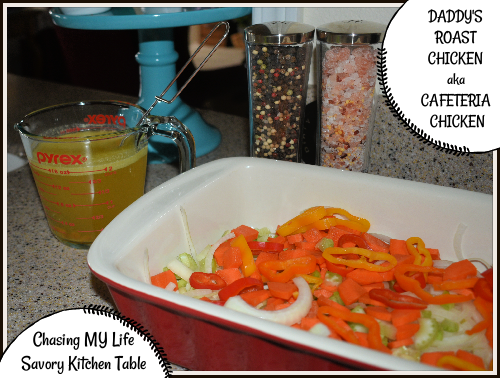 The traditional vegetable mixture is onions, carrots and celery in a 2:1:1 ratio. Mirepoix is the flavor base for a wide variety of  stocks, soups, stews and sauces. My version adds mini peppers and garlic making my ratio 2:1:1:½:½.
The leftover chicken was then picked from the bone and chopped up to add to the leftover gravy. The leftover potatoes were mashed and then the gravy with chicken pieces was served over the mashed potatoes.
DADDY'S ROAST CHICKEN aka CAFETERIA CHICKEN & GRAVY

1 LARGE onion, halved root to tip, sliced thin
3 stalks celery, diced
2 LARGE carrots, diced
4-6 cloves garlic, minced
3-4 mini peppers, seeds & ribs removed, sliced
5-6 pound WHOLE chicken
1 stick butter, melted
FRESH ground sea salt and black pepper, to taste
3-4 cups chicken bone broth
Preheat oven to 300°.

Alternately layer the onions, celery, carrots, peppers and garlic in the bottom of the roaster.

Add chicken on top of the veggie layer.

Coat chicken with melted butter, reserving any extra.

GENEROUSLY season the chicken with FRESH ground sea salt and black pepper.

Whisk the remaining melted butter into the bone broth.

Pour the broth mixture around the chicken over the veggies.

Cover the chicken with a foil tent, sealing the edges.

Roast 3 hours without peeking!

Transfer chicken to platter and tent to rest while you prepare the gravy.

Drain the veggies through a sieve to accumulate the cooking juices.
GRAVY
3 cups of reserved cooking juices
3 cups chicken bone broth
1/4 cup butter
1/4 cup WONDRA flour
1/2 cup heavy cream
FRESH ground sea salt and black pepper, to taste
FRESH ground thyme or poultry mix herbs
Melt the butter in large saute pan.

Whisk in flour 2 minutes until golden.

Slowly whisk in chicken stock and reserved cooking juices.

Add thyme or herbs.

Bring to a simmer over medium heat for 5 minutes or until thickened, creamy, but still pourable consistency.

Whisk in cream.

Fold in chicken pieces.

Serve over mashed potatoes.
CAFETERIA CHICKEN & GRAVY
Leftover roast chicken taken from the bone and diced small
Leftover gravy if there is any
4 tablespoons butter
4 tablespoons WONDRA flour
4 green onions, sliced thin
FRESH ground sea salt and black pepper
3 cups homemade bone both
1 cup half and half
Melt butter in a stock pot over medium heat.

Whisk in flour until golden and smooth.

Add green onions and saute 30 seconds.

Add bone broth and stir until smooth, simmering 5-10 minutes.

Season with FRESH ground sea salt and black pepper.

Blend in half and half.

Fold in chicken pieces.

Adjust seasoning and simmer until creamy and desired consistency.

Serve over mashed potatoes.**
**NOTE: I use the remainder of the potatoes from the original meal. I dice half of them and mash the rest. Then I fold them together to make a rustic mash.