There really isn't a recipe per se, but these are some favorite ways to use leftover turkey besides the obvious and mandatory cold turkey sandwiches while you decorate the Christmas tree and the open face hot turkey sandwiches after you've spent the day outside in the cold putting up the decorations.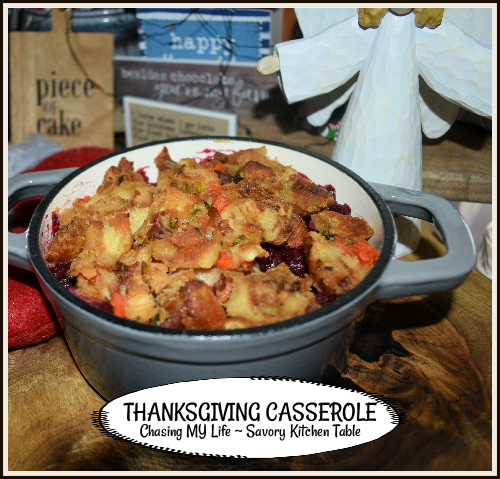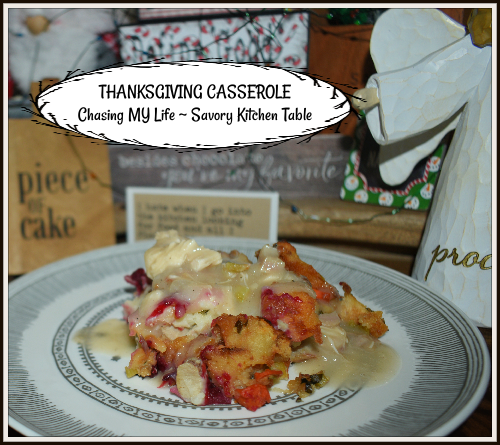 For the casserole I start with dressing followed by small pieces of chopped turkey. Then I put a layer of mashed potatoes followed by a layer of homemade cranberry sauce. I finish it off with another layer of dressing. I bake it for 30 minutes and then serve with a ladle of hot gravy. BUT, you can be as adventurous as YOU'D like with yours. Maybe you want a layer of sweet potato casserole, marshmallows and all or green been casserole. Hubby had jalapeno cranberry sauce in his! You could even top it with another layer of crispy onions 😀

The other dish I saw on Facebook or Instagram a few years back. You start with a regular egg roll wrapper. Start with a nice thick strip of white meat turkey followed by a scoop of dressing, a SMALL spoonful of mashed potatoes drizzled with a tablespoon or so of both cranberry sauce and gravy. Roll them up like a traditional egg roll sealing the finally edge with a brush of water. Deep fry in hot oil and serve with more cranberry sauce for dipping. And then again is my tried and true Turkey Tetrazzini. 😀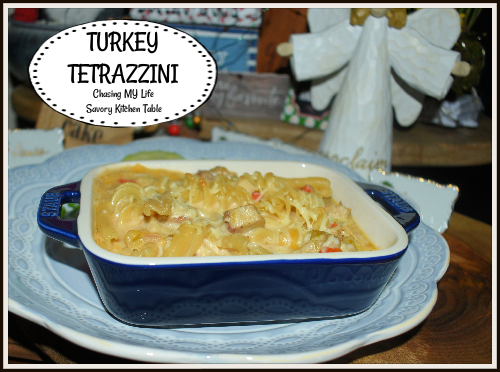 When I was a kid, tetrazzini was a dish made from leftovers. In our house it could be from left over roast chicken, turkey or ham. The cheese back then was not of my liking either, usually Velveeta or American singles – YUCK!! Personally I only like it made with chicken and I prefer it with fresh seared chicken not the traditional boiled or stewed. 😀 One of the recipes I found was a much newer version that used "canned" products that I discarded immediately to lean towards the old fashioned version of scratch.
I have seen a bunch of recipes in old recipe files and brand name pamphlets for canned chicken. I even found one that must have come from a lunch lady's files as it called for 20 cups of cooked chicken, 24 ounces of spaghetti noodles… honestly I quit reading at that point since I knew it would never for for the 2 of us and was giving me a headache to try and convert it to serve 2!
I ended up taking the parts I liked from each recipe AND my memories to make my new one!
TURKEY TETRAZZINI ala MEMORIES serves 4-6
8 ounces uncooked spaghetti, broken in half
4 boneless, skinless chicken thighs or 2 cups cooked chicken or turkey pieces
3 tablespoons butter
1 LARGE stalk celery, sliced thin
1 shallot, diced
1 small (mini) red pepper, chopped
3 tablespoons Wondra flour
3/4 cup chicken (or turkey) broth
1 teaspoon sweet paprika
1 cup heavy cream
2 tablespoons apple cider vinegar
1 tablespoon Cream Sherry
2-3 sprigs thyme, leaves only
3/4 cup grated sharp cheddar cheese
1/4 cup grated Mozzarella
FRESH ground sea salt and black pepper
In a large skillet, heat oil over medium heat.

Generously season chicken pieces and sear 3-4 minutes per side in hot oil until cooked through and golden brown.

Remove chicken and small dice OR shred. Set Aside.

Preheat oven to 350°.

Spray baking dish with non-stick baking spray.

Prepare noodles per package directions.

Add butter to skillet.

When butter is sizzling add celery, shallots and peppers to skillet and saute 2-3 minutes.

Add flour to skillet, stirring to coat until golden.

Add chicken broth and bring to a boil.

Reduce to a simmer and stir in the heavy cream, apple cider vinegar, cream sherry and thyme leaves. Simmer until starting to thicken and slightly reduced.

Stir in cheeses, reserving a small amount for garnishing.

Fold in spaghetti noodles and chicken pieces.

Season to taste.

Transfer to baking dish.

Top with remaining cheese.

Bake 20 minutes until heated through and all cheese is melted.
NOTE: I have been known to throw in a can of drained petite peas 😀 to make it an all in one dish.