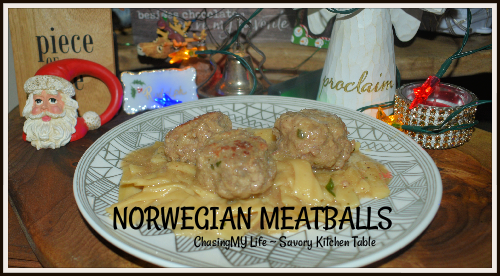 NORWEGIAN MEATBALLS & LUTEFISK minus the LUTEFISK
I adapted this recipe from Molly Yeh
Lutefisk is one of those things that you either love or you hate it – there is no middle ground. It may be super common around where she lives during the holidays since so many families have Scandinavian heritage, but it won't happen here LOL 🙂
Lutefisk consists of a dried white fish that is pickled in lye & it has a very strong smell and a gelatinous texture. She is ABSOLUTELY correct that it's quite polarizing to a lot of people but to others, it's very nostalgic and usually served with meatballs and lefse.
Molly used unsalted butter as did I the first time and we found it really lacking in salt so I switched to salted butter.
MEATBALLS
3 tablespoons butter
1 LARGE shallot, FINELY chopped 
1 LARGE bunch green onions, FINELY chopped
1 tablespoon FRESH chopped sage, about 6 leaves 
1 1/2 cups crustless white country bread cubes
1/4 cup WHOLE milk 
13 ounces 80/20 ground beef
13 ounces ground pork 
2 tablespoons FRESH chopped Italian parsley 
FRESH ground sea salt and black pepper
1/2 teaspoon ground allspice 
1/2 teaspoon ground ginger 
1/4 teaspoon FRESH grated nutmeg 
1 LARGE egg, beaten 
Melt the butter in a large skillet over medium low heat. I like my enameled cast iron sauce pan.

Add the shallots, onions and sage, stirring occasionally, cooking 15-18 minutes until a deep golden color.

Remove the pan clean with a paper towel, no need to wash.

While the onions cool, add the bread cubes to a large bowl.

Drizzle the milk over and toss to saturate it. Let sit 5 minutes or so until the bread is softened. Squeeze the bread through your fingers to make a paste.

Add the beef, pork, parsley, FRESH ground sea salt and black pepper, allspice, ginger, nutmeg, egg, and cooled onions. Mix well with your hands.

Use a scoop or roll by hand 20-22 meatballs about 1 1/2 inches in diameter and rest on a baking sheet or large plate.

Melt 3 tablespoons butter over medium heat.

When the butter is melted, brown the meatballs all over, in batches, removing them to the plate or baking sheet as they brown, about 5-6 minutes per batch. Don't worry if they aren't cooked through at this point, they'll cook more in the sauce.
SAUCE
3 + 1 tablespoons butter
2 teaspoons FRESH chopped sage, about 4 leaves 
1/4 cup WONDRA flour 
3 cups beef stock 
1 tablespoon QUALITY Worcestershire sauce 
FRESH ground sea salt and black pepper, to taste 
1/4 cup FULL FAT sour cream 
2 tablespoons FRESH chopped Italian parsley 
Prepared pasta, for serving (optional)
Mashed Potatoes, for serving (optional) 
Lefse, for serving (optional) 
Once all the meatballs are out of the pan, add the remaining 1 tablespoon of butter and melt.

Add the sage and cook until sizzling, about 30 seconds.

Sprinkle in the flour and stir to make a paste. Cook toasting the flour, 1 to 2 minutes until golden.

Whisk in the beef stock and Worcestershire sauce until smooth.

Adjust the heat so the sauce is simmering and season to taste with salt and pepper.

Add the meatballs to the sauce and simmer 8-10 minutes, stirring occasionally, until the sauce has thickened and the meatballs are cooked through.

Turn off the heat.

Scoot a few of the meatballs to the side to make a space in the pan and whisk in the sour cream until smooth.

Sprinkle with the parsley and serve over mashed potatoes or pasta if desired.