Again this year I have a station set up just outside the front door in the alcove for delivery drivers with a nice variety of drinks and snacks for them to choose from.  They all seem to enjoy it and our regular drivers have come to know it will always be there. One of them saw me at the post office the other day and actually asked if there would be my 'special Christmas goodies' again this year.

I normally do this, but again this year tried for an even nicer variety so they really realize just how much they have become essential in this day and age.
I usually do a large plate of goodies for my neighbors and regular delivery people. But, this year again with smaller gatherings and everyone having been home so much and already snacking too much probably, I'm changing it up again to make it easier on me, more cost effective for me and more fun too.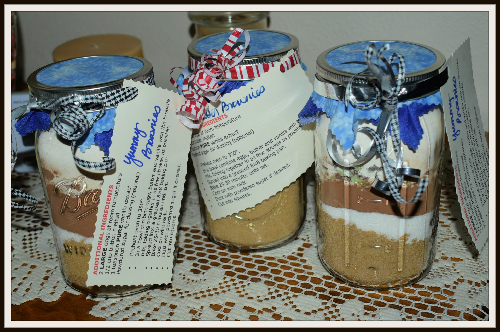 These jars are from last year when I did gift jars for brownie mixes that can be used whenever they want instead of a plate of goodies that may go bad before they eat them all.
PEANUT BUTTER* BROWNIE MIX
1 cup packed brown sugar
1/2 cup sugar
1/3 cup baking cocoa
1 cup peanut butter chips*
1 cup all purpose flour
1/2 teaspoon baking powder
1/4 teaspoon sea salt
1/2 cup semi-sweet chocolate chips
1/2 cup FINELY chopped walnuts
In a quart size mason jar, layer the ingredients in the order listed, packing down well between each layer. This is an important step s these ingredients literally fill the jar!
Cover tightly. Store in a cool, DRY place up to 6 months.
Include a cute little square of Christmas fabric, some ribbon and tag with the following instructions:
ADDITIONAL INGREDIENTS
2 LARGE eggs at room temperature
1/2 cup butter, melted
1 teaspoon PURE vanilla extract
Powdered sugar for dusting (optional)
Preheat oven to 350°.

In a bowl combine eggs, butter and vanilla with the brownie mix, folding together in as few strokes as possible.

Spread into a greased 8×8 baking pan.

Bake 25-30 minutes until set.

Cool on wire rack.

Dust with powdered sugar if desired.

Cut into squares.
NOTE: It is easy to change up this flavor by just changing the flavor of chips you use. I'm posting my peanut butter recipe, but you'll notice the picture is of the jars I made with mint chocolate chips.  This batch of 12 had a variety of peanut butter chips, butterscotch chips, caramel chips and mint chocolate chips, LOL 😀 NOT all together  of course!
~~~~~~~~~~~~~~~~~~~~~~~~~~~~~~~~~~~~~~~~~~~~~~~~~~
These are this year's recipes:
HARVEST SOUP – picture soon
3/4 cup dried split peas (yellow or green)
1/3 cup+ granulated beef bouillon
1/2 cup barley
3/4 cup dried lentils
1/2 cup dried, minced onion
3/4 cup long grain wild rice
3/4 cup mini bow-tie or alphabet pasta
You can do this two ways. You can make pretty layered rows of each ingredient ending with the granulated beef bouillon allowing it to trickle down through it all. Or you can mix it all together and then fill the jar and add a lid.
Include a cute little square of Christmas fabric, some ribbon and tag with the following instructions:
ADDITIONAL INGREDIENTS:
28 ounce can diced tomatoes (DO NOT DRAIN)
1 1/2 pounds stew meat
1 tablespoon butter or oil
1/4 cup flour
FRESH ground salt and pepper, to taste
Dredge stem meat pieces in seasoned flour, shaking off excess.

In a large stock pot melt butter or oil.

Sear stew meat pieces.

Add soup mix, 3 quarts of water and diced tomatoes.

Bring to a SLOW boil.

Reduce heat, cover and simmer for 1-2 hours until peas, lentils and rice are tender.

Makes 16 cups.
~~~~~~~~~~~~~~~~~~~~~~~~~~~~~~~~~~~~~~~~~~~~~~~
HERB RICE MIX ~ PER 1 PINT JAR:
2 cups long grain rice
2 tablespoons celery flakes
2 tablespoons dried, minced onion
1 teaspoon dried chives
2 tablespoons dried parsley
1 teaspoon dried tarragon
1 teaspoon dried oregano
1 teaspoon sera salt
1/2 teaspoon black pepper
Combine all the ingredients, mixing together well.

Funnel into a pint sized mason jar.

Seal with a fabric square between the ring and the lid.

Tie with a cute ribbon that attaches the instructions.
INSTRUCTION TAG:
In a saucepan over medium heat, bring 2 cups water and 2 tablespoons of butter to a boil.

Add 1 cup of rice mix.

Reduce heat, cover and simmer 20 minutes.

Let stand 5 minutes or until all liquid is absorbed.

Fluff with a fork and serve.
~~~~~~~~~~~~~~~~~~~~~~~~~~~~~~~~~~~~~~~~~~~~~~~~~~
CHOCOLATE PEANUT BUTTER COOKIES – this jar will be seriously FULL so pack each layer as tightly as possible!
1 cup PACKED brown sugar
1 1/2 cup powdered sugar
3/4 cup baking cocoa
1 1/2 cups all purpose flour
1 teaspoon baking powder
1/4 teaspoon sea salt
In a 1 quart wide mouth canning jar, layer the brown sugar packing it down as firmly as possible.

Add the powdered sugar also packing it down as much as possible.

Add the cocoa once again packing it down firmly. With a dry towel clean excess cocoa from the inside edges of the jar.

Sift the flour, baking powder and salt together. Add to the jar, packing tightly.

Include a cute little square of Christmas fabric, some ribbon and tag with the following instructions:
additional ingredients
1/2 cup butter
1/2 cup peanut butter
2 eggs
Preheat oven to 350 degrees.
Cream together the butter, peanut butter and eggs.
Gradually sift in the dry mix.
Shape into balls and place on a

LIGHTLY

oiled baking sheet.
Bake 15-20 minutes.