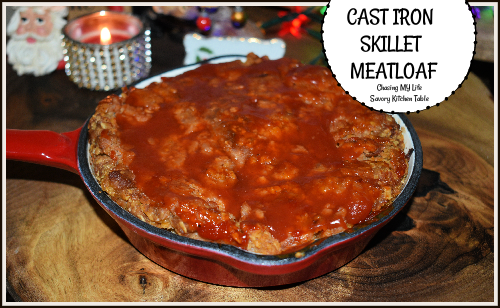 CAST IRON SKILLET MEATLOAF
2 pounds QUALITY Ground Beef
3-4 slices bacon, chopped and browned crisp
1 cup quick oats
¼ cup QUALITY ketchup
1 teaspoon garlic powder
1 teaspoon onion powder
FRESH ground sea salt and black pepper
Place an 8-10″ cast-iron skillet in oven, and preheat oven to 350°.
Place all ingredients in a large bowl and mix to combine with your hands.
Remove cast-iron skillet from oven and carefully place meat mixture into skillet.
Press down so it fills the skillet evenly.
Bake for 15 minutes.
GLAZE
¼ cup QUALITY ketchup
1 tablespoon Dijon mustard
Whisk ketchup and mustard together in a small bowl.

After meatloaf has cooked for 15 minutes, spread glaze on top of meatloaf with spatula or brush and bake for an additional 15 minutes.

Baste again and serve.

Cut into 6-8 wedges and enjoy!