This recipe is really versatile!  You can make it like plain old oatmeal cookies or you can roll it our and use cookie cutters at Christmas time, glaze them and decorate with sanding sugar!  Today's picture is a "June" version.  I'll try and get a picture next Christmas to add to this post.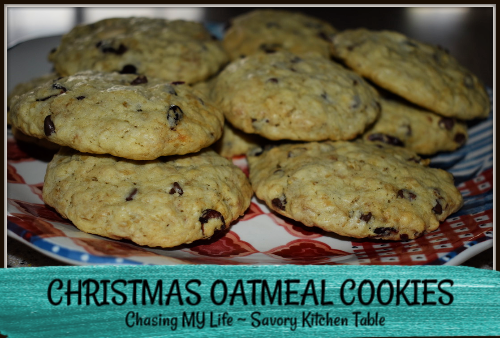 CHRISTMAS OATMEAL COOKIES
1 cup butter, softened
1 LARGE egg
1 teaspoon QUALITY vanilla extract
2 1/4 quick cooking oats
1 1/2 cups all purpose flour
3/4 teaspoon baking soda
1 1/4 teaspoon QUALITY cinnamon
1/4 teaspoon nutmeg
1 cup small chopped walnuts'
3/4 cup PACKED brown sugar
1/2 cup FINE sugar
1/2 cup chocolate chips
Preheat oven to 350°.

Sift together the flour, baking soda, cinnamon, nutmeg and oats.

Beat together the butter, sugar and egg until fluffy.

Add vanilla.

Gradually add the sifted dry mixture into the egg mixture, blending well.

Add nuts and chocolate chips.

Drop by teaspoonfuls onto ungreased baking sheets.

Bake 10-11 minutes.

Cool.