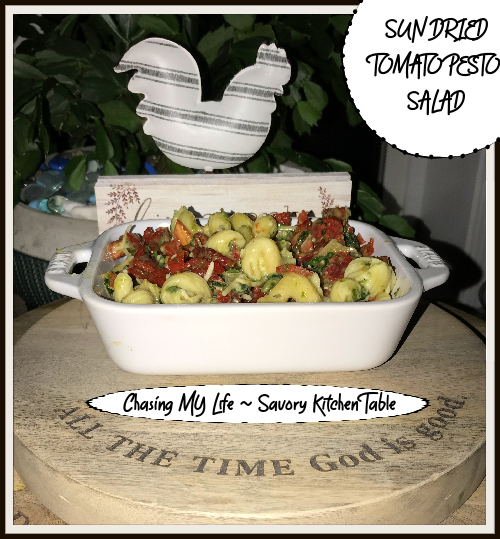 SUN DRIED TOMATO PESTO SALAD yield 8 servings
Simple ingredients make an elegant looking side dish for any picnic or BBQ. This is the perfect pasta salad for a quick bite or pick me up!
Prep Time: 10 minutes Cook Time: 15 minutes Total Time: 25 minutes
1 pound penne pasta (or large pasta shape of choice – cavatappi works well too), prepared al dente per package directions in salted water, drained WELL
1/2 cup basil pesto
2 tablespoons apple cider vinegar
1/2 cup oil-packed sun-dried tomatoes drained and chopped
1/2 cup FRESH grated Parmesan Cheese
1/2 cup micro greens of choice
1/4 cup diced red pepper
FRESH salt and pepper, to taste
Whisk together the pesto and vinegar.

Toss pasta with pesto mix.


Add sun-dried tomatoes tossing to combine well.

Fold in micro greens, diced red pepper and Parmesan cheese. 


Chill in fridge until ready to eat.

NOTE: This makes a full meal just by adding some chopped salami, pepperoni or rotisserie chicken pieces.