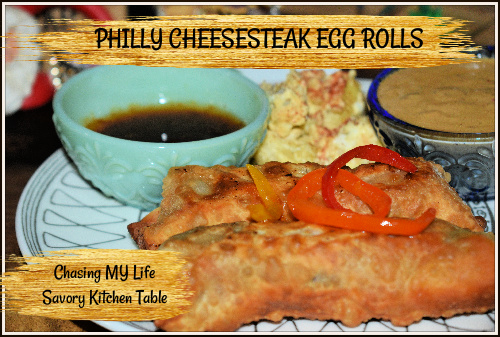 PHILLY CHEESESTEAK EGG ROLLS yields 15 egg rolls
1 pound ribeye, sliced thin
1 tablespoon butter
1 red pepper, seeded and thinly sliced
1 medium onion, thinly sliced
3/4 cup WHOLE milk
1/2 cup shredded provolone cheese
1 ounce Velveeta cheese
1 teaspoon Worcestershire sauce
1/2 teaspoon garlic powder
FRESH ground sea salt and black pepper, to taste
15 egg roll wrappers
oil for frying
Sweet chili sauce for dipping
In a large skillet melt the butter.

Cook steak slices 4-6 minutes over medium high heat until browned.

Add pepper slices and onions stirring 3-4 minutes until tender.

Reduce heat.

Stir in milk and cheeses until melted.

Remove from heat.

Stir in garlic powder, Worcestershire sauce, salt and pepper. Cool.

Place 2 tablespoons of filling in the center of an egg roll wrapper.

Fold bottom corner up over filling.

Fold sides over filling.

Wet remaining edges with water.

Roll tightly until edges are sealed.

Repeat with remaining egg roll wrappers.

Heat oil to 375°.

Fry egg rolls until golden brown.

Drain on paper toweling.

Serve hot with chili sauce.