This recipe is an adaptation of a Molly Yeh recipe. The croutons are still hers, but I adapted the actual salad and vinaigrette to our likes. 😀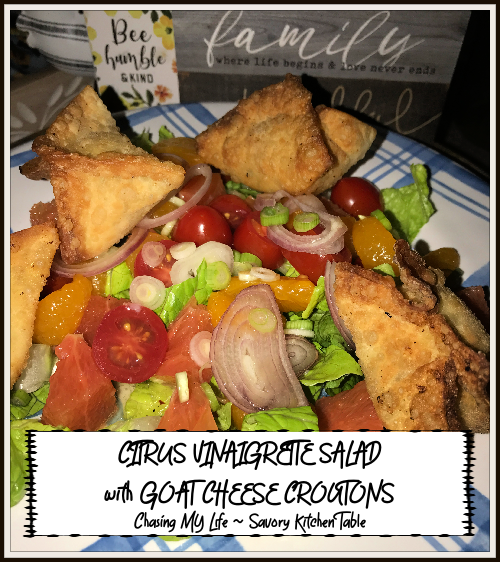 CITRUS VINAIGRETTE SALAD with Wonton Croutons
Level: Intermediate Total: 50 min Active: 50 min Yield: 4 to 6 servings
1 LARGE navel orange, segmented with pith and peel removed
1 can mandarin oranges and juice (use juice in the vinaigrette)
FRESH ground sea salt and black pepper 
3 tablespoons avocado oil 
Torn romaine lettuce
1 small red onion, thinly sliced 
2 green onions, sliced thin
1 cup grape tomatoes, halved
1 tablespoon toasted white sesame seeds
Vinaigrette from below
Fried Wonton Croutons from below

Place the lettuce in a large serving bowl.

Add the onions and tomatoes.

Drizzle with the dressing, tossing to coat.

Season to taste with FRESH ground sea salt and black pepper.

Top with orange segments, sesame seeds and Wontons.

Drizzle with more dressing, as needed.

Serve immediately.
CITRUS VINAIGRETTE yields 1 cup
1 tablespoon unseasoned rice wine vinegar
1/2 – 3/4 cup avocado oil
3 tablespoons FRESH lemon juice (2 medium lemons)
3 tablespoons FRESH orange juice (1 LARGE orange, mandarin orange juice from above or a combination of both)
1 tablespoon QUALITY honey
FRESH ground sea salt and black pepper, to taste
1 clove garlic, FINELY minced
Whisk together all ingredients until well-combined and emulsified.

Store in the refrigerator no longer than 3 days since it contains fresh garlic.

Shake WELL before each use.
FRIED GOAT CHEESE WONTON CROUTONS ala Molly Yeh
Neutral oil, for frying
3 ounces (84 grams) soft goat cheese 
1/4 cup (7 grams) chopped fresh chives
FRESH ground sea salt and black pepper 
12 wonton wrappers 
FILLING
Heat about 2 inches neutral oil in a large saucepan to 365.°

Fill a small bowl with water.

Set a wire rack over a baking sheet and set aside.

Combine the goat cheese, chives, honey, a pinch of salt and several grinds of pepper in a small bowl.

Mash with a spoon to combine.
WONTONS
Lay out the wonton wrappers and add 1 teaspoon filling to the center of each.

To seal, dip your finger in the water and wet the perimeter of the wrapper.

With your thumb and forefinger, fold 2 opposite corners of the wrapper in half and then bring them together to meet in the middle.

Pinch to seal.

Repeat with the remaining 2 opposite corners to create a four-cornered star.

Add half of the wontons to the oil and fry, turning occasionally, until crisp and deep golden, 2 to 3 minutes. DO NOT CROWD PAN.

Drain on the wire rack.

Season with salt.

Repeat with the remaining wontons.