Toss out the hamburger helper and make this instead. Another tasty one pot meal full of flavor and texture that's quick and easy for classic comfort food weeknight family meal. The beauty of this recipe is that it is super easy to adjust the servings. I'm making most recipes for 2 these days, but just double or triple up and feed 4-6 in a jif.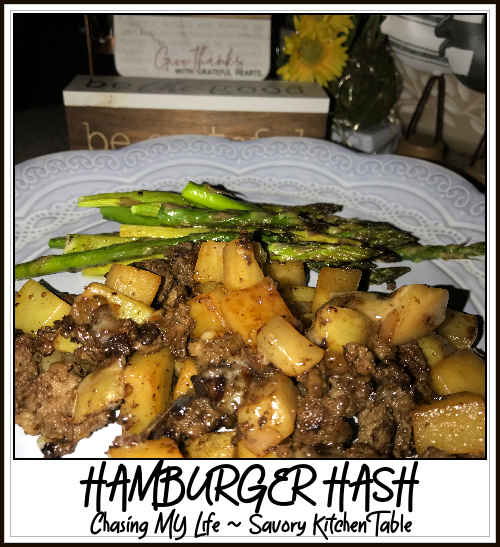 HAMBURGER HASH – serves 2 adapted from SpaceShips and Laser Beams
Prep Time 15 mins Cook Time 20 mins Total Time 35 mins
1 SMALL russet potatoes, peeled and chopped into bite size pieces
1 small turnip or rutabaga, peeled and chopped into bite size pieces
3/4 pound lean ground beef
1/2 Vidalia onion, diced
2 teaspoons avocado oil
1-2 cloves garlic, minced
1 tablespoon Garden Gourmet Italian seasoning (or 2 teaspoons dried)
FRESH ground sea salt and black pepper
1/4 cup beef broth
1 1/4 cup shredded sharp cheddar cheese
Boil potatoes 3-5 minutes until tender, BUT NOT too soft.

Drain and set potatoes aside.

In a large nonstick or greased skillet, over high heat, cook ground beef until browned. Drain off fat. Set cooked beef aside.


Using the same skillet over medium heat avocado oil.

Add onion, potatoes, Italian seasoning, minced garlic, salt, and pepper. Toss well to evenly coat potatoes and onions in seasoning, cooking 10-15 minutes and stirring often until potatoes and onions have started to brown and crisp.

Fold ground beef back to the skillet, stirring well to mix.

Add broth and simmer until broth is mostly absorbed.

Add cheese, stirring until well mixed and melted.

Remove from heat.

Serve hot. 

NOTES
ALWAYS start your potatoes in cold water. Adding them directly to boiling water will immediately cook the outsides while the insides will take longer.

Use a fork to gently pierce the potatoes while they are boiling. When the fork will pierce the potato easily but not break it apart, your potatoes are ready.

If using dried herbs, use a mortar and pestle or rub them between your clean dry palms to break them up and revive their flavor essence before adding them to your recipe.