TEX MEX CHICKEN POT PIES yields 2-3 individual pot pies
ACTIVE PREP TIME 1 hourish
CHILL TIME 20-30 minutes
TOTAL TIME 2 hourish
2 tablespoons salted butter
1 tablespoon Frank's original Red Hot Sauce
1 can ROTEL original tomatoes, drained WELL
1 can white shoe peg corn, drained WELL
3 large green onions, diced 
FRESH ground sea salt and black pepper
3 tablespoons WONDRA flour, plus more for dusting 
1 cup homemade chicken broth 
1/2 cup heavy cream 
1/8 cup chopped fresh cilantro 
1 1/2 cups shredded rotisserie chicken
1/2 batch of your favorite pie crust – one recipe follows
All purpose flour, for dusting
1 LARGE egg, beaten 
1/4 cup grated cheese, Mexican blend or pepper jack cheese 
Preheat the oven to 400°.

Lightly spray 2-3 individual cast iron or heavy ceramic baking dishes. I also often use my pampered chef 1 1/2 quart cast iron baker to make a single pot pie for 2.


Melt the butter in a large skillet over medium heat.

Add onions, corn and tomatoes.

Season with a pinch of FRESH ground sea salt and black pepper, cooking 2-3

minutes to soften the vegetables.

Sprinkle the flour over the vegetables and stir 1-2 minutes until the flour has coated the vegetables.

Add chicken broth, stirring constantly.

Stir in the cream, cilantro and hot sauce.

Allow sauce to come to the boil and thicken 2 to 3 minutes.

Remove from heat and adjust seasoning to taste.

Add the chicken and stir to combine.

Add half the cheese stirring to combine.
Portion into baking dishes.

Roll out the Pie Crust on a lightly-floured surface.

Carefully lay the crusts over each baking dish, pressing gently into the sides to seal.

Brush the top with the beaten egg and sprinkle with remaining cheese.

Cut 2 to 3 small slits in the top and bake until the crust is golden, about 30 minutes.

Cool slightly 10 minutes before serving.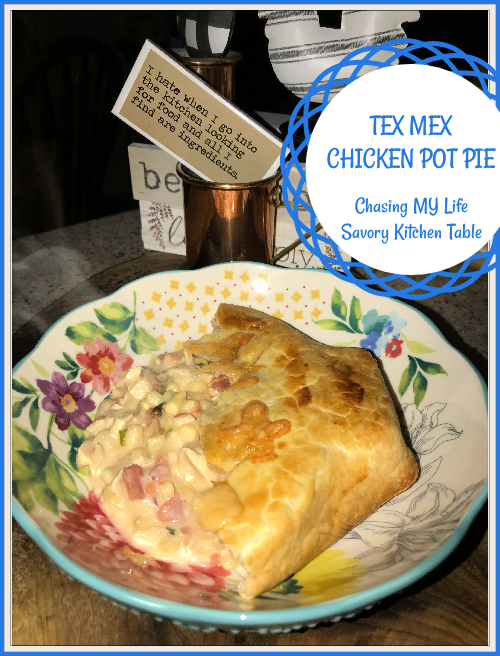 PERFECT PIE CRUST – makes one full batch of dough, but you'll only need a third to one half of it for this recipe.
3 cups all-purpose flour
1 teaspoon kosher salt 
3/4 cup (1 1/2 sticks) salted butter, cut into small pieces 
3/4 cup vegetable shortening, cut into small pieces 
1 LARGE egg 
1 tablespoon distilled white vinegar 
5 tablespoons COLD Vodka or cold water, or more as needed 
Combine the flour, salt, butter and shortening in a large bowl.

Using a pastry cutter, gradually work it all together until the mixture resembles coarse crumbs.

Beat the egg with a fork and add it to the mixture along with the vinegar.

Add the cold water.

Stir it all together until it comes together, adding another tablespoon or two of water if it needs the moisture.

Form the mixture into 2 balls and wrap them in individual plastic bags.
NOTE:
I use vodka because it tends to make a flakier crust as it evaporates during the baking process.

If using immediately, chill for 20 minutes in the refrigerator before rolling out. If freezing, remove them from the freezer 30 minutes before you are ready to use them.