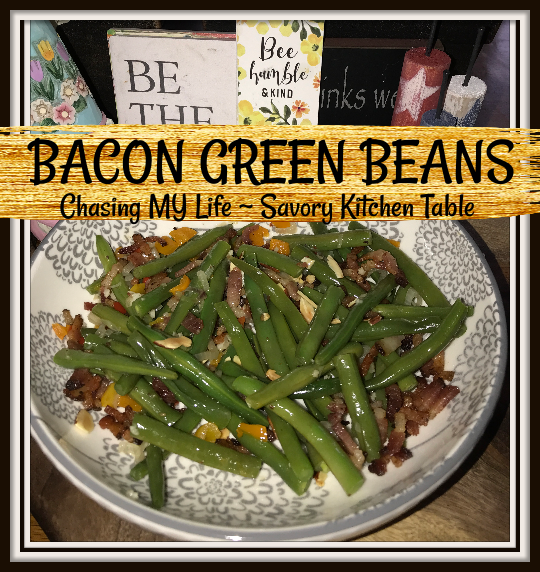 BACON GREEN BEANS
Total: 40 minutes Active: 10 minutes Yield: 6 servings
1 pound green beans, trimmed
3 slices bacon, diced
2 tablespoons bacon grease
2 cloves garlic, minced
1 large onion, SMALL chopped
1 cup chicken broth, plus more as needed
1/3 – 1/2 cup chopped mini red bell pepper
FRESH ground sea salt and black pepper
Cooked bacon JUST until crisp. Remove with a slotted spoon to drain on paper towels. Reserve 2 tablespoons of bacon grease. If you don't have 2 tablespoons supplement with salted butter.

Add garlic and onions, cooking for 1-2 minutes.

Add the green beans and cook 1 minute until the beans turn bright green.

Add chicken broth, chopped red pepper, salt and pepper to taste.

Reduce heat to low and cover, leaving the lid cracked to allow steam to escape.

Cook 20-30 minutes until the liquid evaporates and the beans are fairly soft, yet still tender crisp. You may need to add more chicken broth during the cooking process, but don't be afraid to let it all cook away so the onions and peppers can start to caramelize.

Stir in bacon pieces.

Serve immediately.