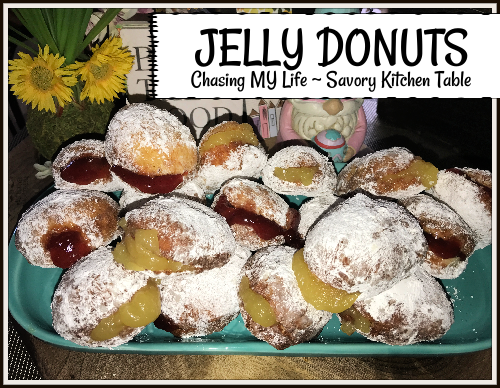 JELLY DONUTS slightly adapted from Home Remedies

2 3/4 cups flour – 350g flour
5.07 ounces – 15 cl lukewarm milk
2 LARGE eggs
1 packet dehydrated baker's yeast
1/3 cup – (25 grams sugar) + a little to decorate
Pinch of salt
grated lemon zest
1 3/4 tablespoons (25 grams) softened butter
frying oil
powdered sugar
lemon curd *or your favorite flavor
sour cherry jam *or your favorite flavor

In the bowl of a mini food processor with a dough hook (or in a LARGE bowl if doing it by hand), sift together the flour, yeast, sugar, salt and grated lemon zest.

Add the lukewarm milk and knead just to combine.

Add the whole beaten eggs and mix again to obtain a homogeneous paste.

Add the butter cut into pieces and knead for at least 5 minutes until the dough is very elastic.

Cover dough with clean tea towel & let rise in a warm place about at least 2 hours. (SEE NOTE)

Flatten dough by hand & knead for another minute to remove bubbles.

Roll out the pastry on a lightly floured work surface to 1/4 inch – 5mm thickness.

Cut out circles with a 2 inch (5 cm) cookie cutter diameter and place them on a floured board, cover with the tea towel and leave to rise for another 45 minutes. (SEE NOTE)

Heat the oil in a fryer and when it is very hot try it with a single donut first, it should not color too quickly and will be completely cooked in 2-3 minutes. They should be blonde. When you have found the right temperature you can dip several donuts at the same time.

Immediately dredge them in powdered sugar.




Let them cool down on a paper towel.




Fill them with jam using a pastry bag.




Enjoy

!
NOTE: I recently found a WONDERFUL trick for rising dough in the winter. Use a heating pad on LOW under your bowl or tray and everything will rise PERFECTLY!!