You know how red beans and rice is a big thing in the south? Yeah, well I HATE red beans so we're having red rice and beans 😀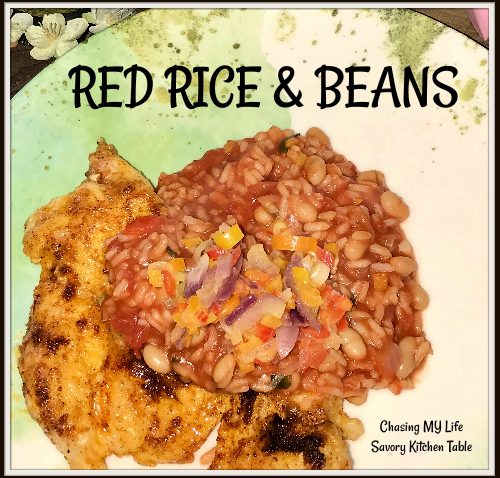 RED RICE & BEANS – serves 6 adapted from Jamie Oliver
2 carrots, peeled and FINELY diced
2 LARGE shallots, FINELY diced
2 red + 2 yellow + 2 orange mini peppers (capsicums), de-seeded and FINELY diced
Avocado oil
3 cloves of garlic, minced
28 ounce can QUALITY crushed tomatoes
2 cups homemade chicken bone broth
1 1/4 cup long grain white rice, rinsed
14 ounce can cannellini beans, drained and rinsed
1/2 cup mozzarella, grated or quartered small balls (optional)
5 LARGE basil leaves
FRESH ground sea salt and black pepper, to taste
Heat 1 tablespoon of oil in a skillet over medium heat.

Add carrots, shallots, garlic and peppers, stirring until softened and beginning to caramelize. Set aside to cool.

Add the tomatoes into a saute' pan over medium heat.

Season with FRESH ground sea salt and black pepper.

Whisk in bone broth and basil.

Add rice and bring to a quick boil.

Reduce heat to low and simmer 20 minutes or until rice is tender and liquid is absorbed.

Stir in beans during last 5 minutes.

Top with minced basil leaves and mozzarella.