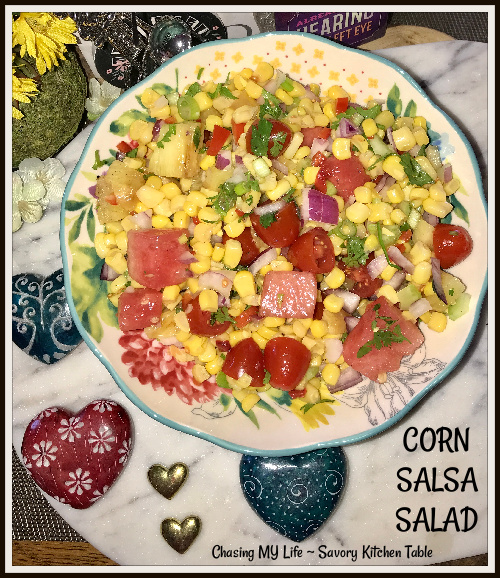 CORN SALSA SALAD
5 ears fresh corn, 1 1/2 cups
2 cups lettuce (optional)
1 SMALL red pepper, diced
2 tomatoes, seeded & diced, or 1 pint grape tomatoes, halved
1/2 cup red onion
1/4 cup FRESH chopped cilantro
1 cup bite size pineapple pieces
1 cup bite size watermelon pieces
2 tablespoons avocado oil
2 limes, juiced
6 ounces pineapple juice
1/4 cup white balsamic vinegar
1 tablespoon green Tabasco, to taste
1/4 cup salted & roasted sunflower seeds
FRESH ground sea salt and black pepper, to taste
Boil corn 5 minutes JUST until tender.

Rinse under cool water.

Cut kernels from the cobs.

In a large bowl combine all ingredients except the lettuce and sunflower seeds, tossing until well mixed and coated.

Whisk together the lime juice, avocado oil, pineapple juice, Tabasco, vinegar, salt and pepper.

Adjust seasoning to taste.

Chill until ready to serve.

Just before serving, add lettuce and sunflower seeds, tossing to mix well.
NOTE: If you are in a hurry, a QUALITY defrosted frozen corn or even cans of Green Giant Mexican corn niblets substitutes easily. AND if you have enough time charring the corn on the grill before hand adds another depth of flavor 😀