I always make a recipe the way it is written the first time and then adjust to our likes the next time. So, while Rodney's recipe was really good, we did adjust it a bit. DISCLAIMER: I'm deathly allergic to mustard, so when I make things that require mustard I make it without and then pull out a portion for me before adding the mustard for him and others.
When I made this the second time it really didn't resemble Rodney's recipe any longer but, hubby said it was so good when he taste tested it that I didn't even need to add the mustard at all! High praise coming from the confirmed mustard King.

The sweet, yet spicy mix of flavors makes the perfect side for ANY backyard BBQ, picnic or potluck supper!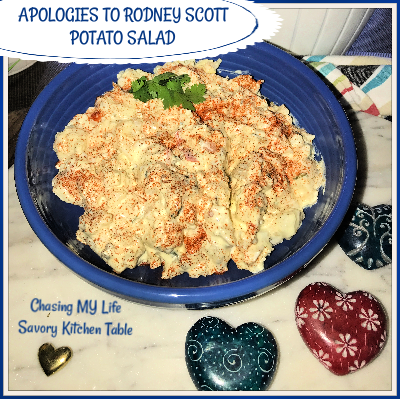 APOLOGIES TO RODNEY SCOTT POTATO SALAD
DRESSING
3/4 cup Duke's 'Hint of lime' mayonnaise
3/4 cup sour cream
1/2 cup apple cider vinegar
1/2 cup sweet pickle relish
1/2-1 teaspoon red pepper flakes
1 teaspoon smoked paprika
1 tablespoon Pampered Chef 3 onion seasoning
Heinz yellow mustard, to taste (optional)
FRESH ground sea salt and black pepper, to taste
Whisk everything together until well blended, tasting and adjusting as necessary. Set aside.
1 purple onion, diced
2 stalks celery, FINELY diced
1/4 cup FRESH chopped parsley
3 1/2 pounds red potatoes, peeled if desired, quartered
6 hard boiled eggs, peeled
2 green onions, minced for garnish
Paprika, for garnish
In a LARGE mixing bowl, toss together the celery and onion.

Grate eggs into the mixture and gentle mix together.

Bring a saucepan of salted water to a boil.

Add the potatoes. Reduce the heat and gently boil potatoes 15 to 20 minutes until tender.

Drain potatoes.

Add potatoes to the mixing bowl.

Pour dressing mix over potatoes while still warm.

Using a large spoon or "meat chopper" break apart potatoes into smaller pieces while mixing everything together.

Arrange in serving bowl.

Top paprika with green onions.

Chill until ready to serve.
NOTES: Assemble this while the potatoes are still warm so that they absorb all the flavors better.
OPTIONS: Replace the apple cider vinegar with half FRESH lemon juice and half pepperoncini juice.