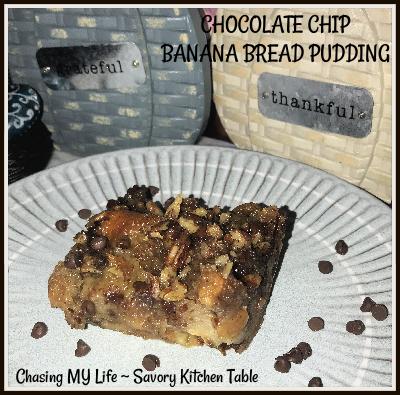 CHOCOLATE CHIP BANANA BREAD PUDDING with MAPLE SAUCE yields 2 pans
PUDDING
12 cups combination of torn croissant pieces and sourdough pieces
6 cups half and half
12 LARGE eggs
2 cups VERY ripe mashed bananas (about 6 LARGE)
2 cups sugar
2 tablespoons PURE vanilla
1 tablespoon QUALITY cinnamon
2 cups mini chocolate chips
Preheat oven to 350°.

Spray 9×13 pans with non-stick cooking spray.

Toss bread and croissant pieces with the chocolate chips.

Mash bananas.

Whisk together the eggs, half and half, sugar, vanilla and cinnamon.

Fold in bananas.

Arrange bread and croissant mixture loosely in the pans.

Pour banana egg mixture evenly over bread pieces.

Gently press the the bread into the custard mixture so bread absorbs the

custard.
TOPPING
1 1/2 cups toasted chopped walnuts
1 1/2 cups PACKED brown sugar
1/2 cup melted butter
In a small bowl combine brown sugar and chopped walnuts.

Drizzle butter into brown sugar nut mixture, stirring to mix well.

Sprinkle the nut mixture evenly over the bread pieces.

Bake 40-45 minutes until golden and cooked through and set well.
SAUCE
1/2 cup maple syrup
1/2 cup PACKED brown sugar
In a sauce pan whisk together the maple syrup and brown sugar 5-7 minutes until the sugar is dissolved and mixture ALMOST boils.

Remove from heat and serve over warm banana bread.
NOTES:
Mash bananas, but leave them a bit chunky.

A powdered sugar sprinkle makes a good alternative to the maple sauce if serving for a potluck or buffet.

Adding rum soaked raisins gives it a real kick too!