This recipe has needed a makeover for years and especially needed a new picture! I posted it 13 years ago when I was hosting a now defunct food blog with a friend and we had many ongoing regular memes, such as Stretch Your Food Dollar.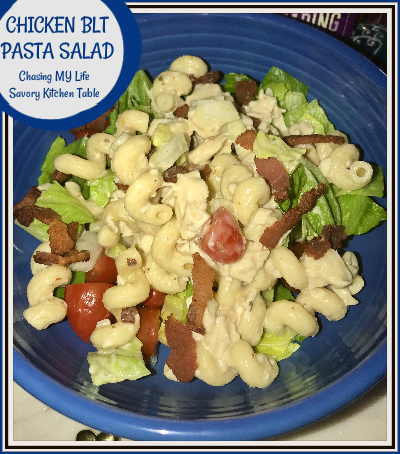 CHICKEN BLT PASTA SALAD
SALAD
16 ounces macaroni (or your choice)
1 pound of bacon, chopped in small pieces and fried crisp, for garnish
2 cups chopped rotisserie chicken
1 LARGE red onion, chopped
1 bunch green onions, sliced thin
3 cups cherry tomatoes, halved
1 1/2 cups chopped Romaine Lettuce
1 1/2 cups chopped Ice Berg Lettuce
3 cups total shredded Sharp Cheddar and Monterey Jack or flavor of choice
FRESH chopped tarragon, for garnish
Cook the pasta according to package directions, drain and cool.

In a cast iron skillet, render the bacon until crisp. Remove the bacon to drain on paper towels.

In a LARGE mixing bowl, mix together the cooled pasta, chicken, onions, tomatoes, lettuce and shredded cheese.
Pour the dressing (recipe below) over the salad and mix well.
Cover the salad and place in the refrigerator for at LEAST 2 hours before serving.

Garnish with the crisp bacon and fresh herbs before serving.
HERB DRESSING
1 cup DUKES mayonnaise
3 tablespoon Hidden Valley ranch dressing mix
3/4 cups WHOLE milk
Juice of 1 lemon
Zest of 1 lemon
2 tablespoons FRESH chopped tarragon
FRESH ground sea salt and black pepper, to taste
1 pinch red pepper flakes
Whisk all the ingredients in a jar.

Place the lid on the jar and shake until the dressing is completely mixed.

Chill until ready to serve.
NOTES:
Add more milk a little at a time until you have the consistency that you want.

If you're in a hurry, you can substitute 1 1/2 cups Buttermilk Ranch dressing.
If you plan to have leftovers, toss with lettuce just prior to serving each time.
This post originally ran at 3 Sides of Crazy for these memes:
Tasty Tuesday is hosted by Jen over at Balancing Beauty and Bedlam, Tuesdays at the Table is normally hosted by Andrea over at My Chihauhau Bites but Andrea is taking a break while she has her baby and is being hosted by Cole for a while. Trista over at Southern Fried Mama hosts Tasty Thursday and Joy of desserts hosts Vintage Recipe Thursday.
Originally posted at OKK July 8, 2009
Updated August 31, 2022