NACHOS CASSEROLE adapted from LOU LOU girls
SAUCE
2 tablespoons butter, melted
2 tablespoons WONDRA flour
1 10-ounce can enchilada sauce (you can change this up be using a salsa verde sauce)
1 1/2 cups of your favorite salsa
1 1/2 cups homemade chicken bone broth*
1 teaspoon KINDERS taco seasoning
FRESH ground sea salt and black pepper, to taste
In a medium saucepan over medium heat, whisk together the melted butter and flour.

Cook, whisking continually, until it begins to bubble; let it bubble for 1 minute.

Add the enchilada sauce, salsa, chicken broth, taco seasoning, salt and pepper.

Raise the heat slightly and bring to a SLOW boil.

Reduce to a simmer while you prepare the meat.
FILLING
1 pound QUALITY ground beef
1/2 pound shredded chicken
3 to 4 cloves garlic, minced
1 medium onion, finely chopped
1 teaspoon KINDERS taco seasoning
FRESH ground sea salt and black pepper, to taste
1 can BUSH's seasoned black beans, drained WELL
15-ounce bag Doritos nacho cheese flavored chips
1 1/2 cups shredded jack cheese (pepper jack if you want a bit of a bite)
1 1/2 cups shredded medium Cheddar cheese
Heat a large skillet over medium high heat.
Crumble beef into skillet along with the onions and garlic, cooking 5-8 minutes until crumbly and cooked through.
Add chicken pieces.
Drain off grease.
Stir in the beans, taco seasoning, salt and pepper.
Add the simmering sauce and shut off the heat.
Mix together the cheeses in a medium bowl.
Stir in 1/3 of the cheese. Save the remaining cheese for assembly.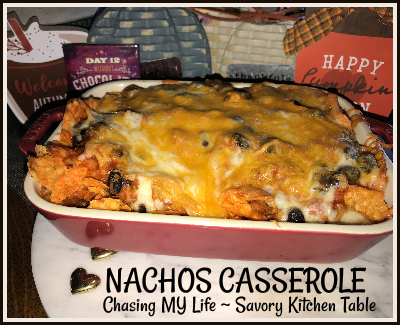 ASSEMBLY
Preheat the oven to 350°.

Spray a 9×13 baking dish with non-stick cooking spray.

Gently break up the chips by crushing the bag slightly with your hands. Make sure not to over crush the chips; you're looking for pieces, not crumbs.

Pour one third of the broken chips into the prepared baking dish.




Top with a quarter of the beef mixture and 2/3 cup of the cheese.

Repeat, adding another layer of chips, beef mix and cheese.

Finish by adding the remaining chips to the top of the casserole.

Top with the remaining cheese.

Cover with foil and bake for 25 minutes.

Remove foil and continue to bake15-20 minutes more until bubbly.

Add toppings just before serving.
TOPPINGS (optional)
1 1/2 cups shredded lettuce
1 1/2 cup tomatoes, diced
1/2 cup sour cream
1/3 cup guacamole
1/4 cup sliced black olives
3 green onions, sliced
Crumbled Cotija cheese
Shredded cheddar
Hot Sauce, optional
NOTE: I use homemade bone broth. In the summertime my bone broth also contains lots of FRESH tomatoes that only enhance the flavor for the better.