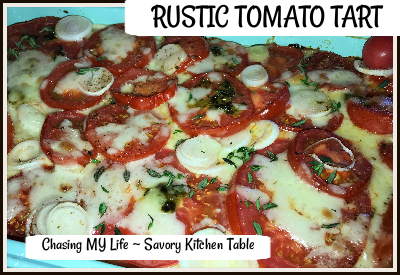 RUSTIC TOMATO TART
1/2 package Pillsbury pie crust or homemade
1 tablespoon avocado oil
2 tablespoons tomato or basil pesto
3/4 cup shredded Havarti cheese
1-2 LARGE heirloom tomatoes, sliced 1/4 inch slices
FRESH ground sea salt and black pepper
1 tablespoon FRESH thyme leaves
1-2 green onions, sliced thin
Preheat oven to 400°.

Line baking sheet with parchment paper.

Roll out pie dough and shape into baking sheet dimensions creating an edge.

Brush with oil and pesto of choice.

Sprinkle 2/3 of the cheese onto the crust.

Arrange tomato slices over the cheese.

Season with FRESH ground sea salt and black pepper.

Top with remaining cheese.

Bake 20-25 minutes until golden brown and crispy.

Cool on wire rack for 5 minutes.

Garnish and serve.