One of my grandmothers used to say there were two ways to things – Her way or the wrong way. This "attitude" became a family "sore" spot a good deal of the time as there are always multiple ways to reach the same end results. For me it always seemed to resonate with recipes… LOL fast forward to this recipe and she was in my head about the best way to write this up.
There really are two ways to make this, the short way and the LONG way, which is my preferred method because I find it the most flavorful is to make the chicken in the slow cooker the day before you want to assemble the casserole.
Not much to look at, but SUPER delicious!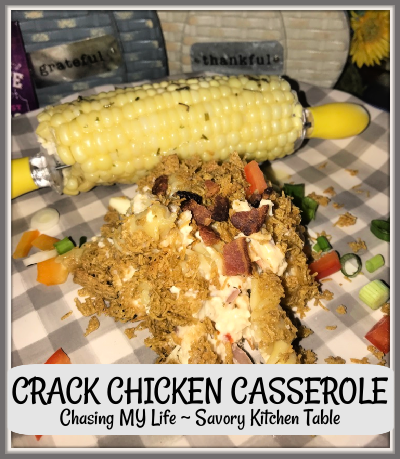 CRACK CHICKEN CASSEROLE (the short way)
8 slices thick cut bacon cooked crispy and crumbled
4 cups shredded rotisserie chicken (or crock pot crack chicken)
2 cups dried egg noodles, cooked per directions on box and drained
1 package dry ranch dressing mix
1/2 cup onion, diced
1/2 cup red or orange pepper, diced
2 cups shredded cheddar cheese divided
1/2 cup Darigold Mexican sour cream
8 ounces cream cheese, softened (omit if using crock pot crack chicken)
1/3 cup Duke's mayonnaise
1 1/2 cup corn chex, crushed
1/4 cup butter melted
2-3 green onions thinly sliced for garnish, optional
Preheat the oven to 350°.

Grease a 9×13 inch baking dish with cooking spray, set aside.

In a large bowl combine the bacon, chicken, cooked noodles, ranch seasoning, onion, red pepper, cream cheese, 1 cup of the cheddar, sour cream and mayonnaise until well blended.

Spread into the baking dish.

Top with the remaining cheddar.

In a small bowl mix together the corn chex with the butter and top the casserole with this mixture.

Bake for 40-50 minutes until bubbly.

Let cool slightly, garnish with optional green onions and serve.
CROCK POT CRACK CHICKEN
2 pounds boneless, skinless chicken breasts or tenders
1 package ranch dressing package mix
8 ounces cream cheese
1 cup shredded cheddar or cheese flavor of choice – Nacho, sharp, Vampire Slayer, etc…
Add chicken to crock pot in a single layer if possible.

Sprinkle with ranch dressing powder.

Place cream cheese block as a whole on top.

Cover and cook on low 6-7 hours.

Remove cover and shred chicken while stirring in cream cheese at the same time.

Add cheese and stir to mix.

Serve on buns, croissants, tortillas, in the above casserole or use it to make tacos next Taco Tuesday!