While a true Chicken Cordon Bleu was popularized back in the 1960's when stuffing chicken breasts with deli meats and cheese seemed like a great option, this version is a compilation of an Austrian Schnitzel Cordon Bleu and Switzerland's Veal Cordon Bleu. Cordon Bleu is NOT strictly French though it became the standard for Americans seeking a refined dinner fare for their "COMPANY" parties and weddings.
Once your meat and cheese is rolled into your flattened chicken breast, they were typically dredged in flour, dipped in egg and then rolled in breadcrumbs and then pan fried.  This recipe is a lighter version that is still breaded, but baked instead of fried.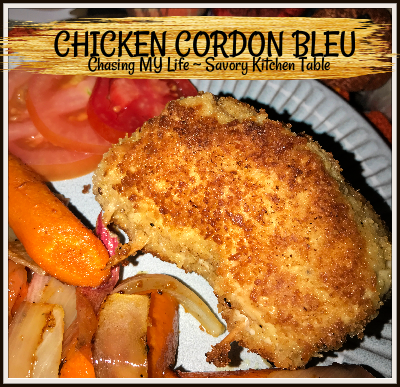 UPDATED CHICKEN CORDON BLEU
NON-STICK cooking spray
4 boneless, skinless chicken breasts (4 ounces each)
4 slices prosciutto
4 slices BABY Swiss cheese or Gouda
4 VERY thin slices red onion
2 cloves garlic, FINELY minced
3 cups FINE bread crumbs
3 tablespoons grated Parmesan cheese
1/8 teaspoon FRESH ground black pepper
1/4 cup buttermilk
2 tablespoons melted butter
1 teaspoon fresh snipped parsley
Preheat the oven to 375°.

Coat the bottom of a glass baking dish with the nonstick cooking spray and set aside.

Flatten chicken breasts between plastic wrap to 1/2 inch thickness using a meat mallet OR

MY PREFERRED METHOD

is to slice the chicken breast in half horizontally almost all the way through. Open the chicken breast up and press out to flatten.

Lay one thin slice of prosciutto and a slice of cheese on the flattened breast.

Top with onion and part of the garlic.


Roll up carefully, beginning at the narrow end and secure with wooden picks. Repeat the process with the remaining chicken breasts.

In a bowl, combine the bread crumbs, Parmesan cheese and black pepper.

Place the buttermilk in a separate bowl.

Dip the chicken rolls in the buttermilk and then the bread crumb mixture.

Place chicken pieces in the prepared baking dish.

Brush each roll with the melted butter.

Bake 35-40 minutes or until golden brown.

Garnish with parsley.
NOTE: Once baked, let the rolls rest before slicing so you get nice, even slices.