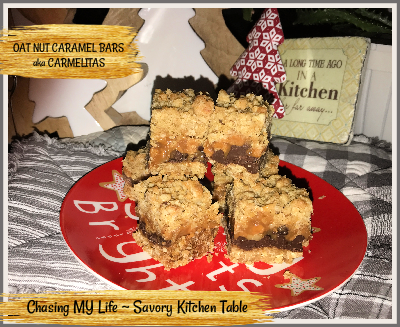 OAT NUT CARAMEL BARS aka CARMELITAS adapted from Donuts 2 Crumpets

OMG these are the BEST cookie bars EVER! It has layers of buttery oats, rich chocolate and creamy caramel which make them a SUPER delicious gooey treat.
Prep Time 25 mins Cook Time 25 mins Total Time 50 mins
2 (11 ounce) bags Kraft caramel bits
1 cup heavy whipping cream
2 cups quick cooking oats
2 cups packed brown sugar
2 cups flour
1 teaspoon baking soda
1 1/2 cups (3 sticks) butter, melted
2 cups semi-sweet chocolate chips
1/2 cup FINELY chopped walnuts
Preheat oven to 350°.

Melt the caramel bits and whipping cream together in a large saucepan over medium heat until smooth. Set aside.

In a large bowl mix the oats, brown sugar, flour and baking soda until combined well.

Stir in the meted butter until you have a crumbly mixture.

Put half the oat mixture in a greased 9×13 pan.

Bake 10 minutes.

Sprinkle the chocolate chips and walnuts over the baked base.

Drizzle the caramel over the chocolate chips (they will be swimming in it.)

Crumble up the remaining oat mixture into small chunks and gently cover the caramel in as even a layer as possible.

Bake 15 minutes more.

Let cool at least 4 hours!
NOTES:
Let cool for at least 4 hours on a wire rack, but the longer the better, over night is best. Eating it any earlier results in a gooey mess, not bars!

At holiday time I use disposable pans that can be easily cut away from the cooled bars for quicker assembly of dessert plates.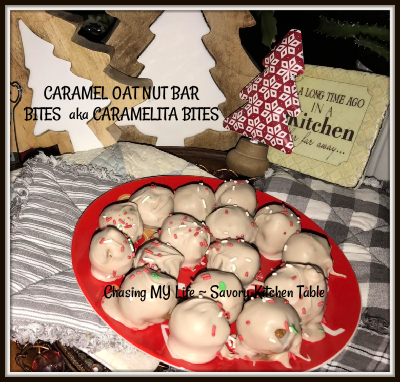 When I cut off the edges I mush all the leftovers together and roll it into balls that I then coat with chocolate for a little extra treat.