There are dozens of recipes all over the internet for overnight French toast – every mom and family has one! French Toast casserole has been a staple in large families for many, many years long before the internet, especially at Christmas and Easter. What better way to use up stale bread, feed a crowd on a busy morning? Whether you are busy opening Christmas presents under the tree or trying to get the crowd out the door for church services this recipe is a winner!
Just pop it in the oven when you get up and then it's ready when you are. The aroma while baking is only topped by the puffy, golden slice of goodness as you top it with fresh butter and maple syrup and then enjoying that first mouth watering sweet bite.
A dense thick Brioche works well as does leftover panettone or even a plump sourdough, but I LOVE to splurge for Christmas with Thomas' Cinnamon Raisin swirl bread. This french toast turns out so sweet and yummy that you can slice it and skip the syrup if you want – just eat it like a sweet roll. When we have a crowd I often add some crisp bacon to the side.
OVERNIGHT FRENCH TOAST serves 6-8
2tablespoons unsalted butter, softened, plus more for baking dish
1 pound bread of choice, sliced ¾-inch thick (sourdough, brioche, panettone)
¼ cup golden raisins (optional if using a bread already filled with them)
6 LARGE eggs
2½ cups WHOLE milk
½ cup heavy cream
⅓ cup PACKED brown sugar
½ teaspoon QUALITY ground cinnamon
¼ teaspoon FRESH ground nutmeg
½teaspoon PURE vanilla extract
¼ teaspoon kosher salt
⅓ cup pecans, chopped (optional)
PURE Maple syrup, for serving
FRESH blueberries or raspberries, for serving (optional
Butter a 2-quart baking dish.

LIGHTLY Butter the front sides of the slices of bread and shingle the slices upright in the dish, overlapping as necessary.

Nestle the raisins evenly between the slices of bread.

Whisk together eggs, milk, heavy cream, sugar, cinnamon, nutmeg, vanilla and salt in a large bowl until well combined.

Pour the egg mixture over the bread and press the bread gently to absorb.

Cover with plastic wrap and refrigerate overnight.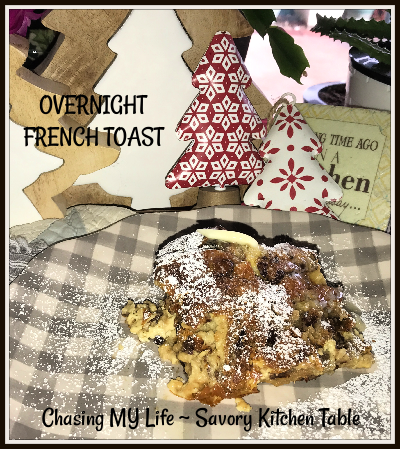 NEXT morning.
Heat oven to 350.

Remove plastic wrap.

Sprinkle with pecans evenly if using.

Tent with foil.

Bake 30 minutes.

Remove foil and bake another 20-30 until puffed, golden and set in the center.

Let stand 10 minutes.

Serve with maple syrup.
NOTE: When I make this for just the two of us I use my small enameled cast iron sauce pan as a baking vessel. I halve the slices and arrange them standing up. Adjust the other ingredients accordingly.