Do you love a good snickerdoodle? What could be better than a warm cookie? Warm bread of course!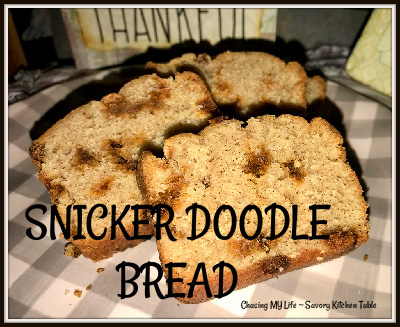 SNICKER DOODLE BREAD
2 1/2 cups all purpose flour
2 teaspoons baking powder
1/2 teaspoon salt
2 tablespoons QUALITY cinnamon (see notes)
1 bag Hershey's cinnamon chips (see notes)
1 cup butter, room temperature
2 cups sugar
2 LARGE eggs
1 tablespoon PURE vanilla
3/4 cup sour cream
Preheat oven to 350°.

Grease 3 loaf pans.

Sift together the flour baking powder, salt and cinnamon.

Fold in cinnamon chips and Set aside.

Cream together the butter and sugar.

Add eggs, blending until fluffy and uniform in color.

Mix in vanilla and sour cream.

Gradually add in the dry ingredients.

Distribute evenly amongst the loaf pans.

Bake 45-50 minutes until toothpick comes out clean.
NOTES:
This recipe easily transforms into a seasonal taste by using apple pie spice or pumpkin pie spice in combination with the cinnamon.

You can also substitute the cinnamon chips for butterscotch chips.