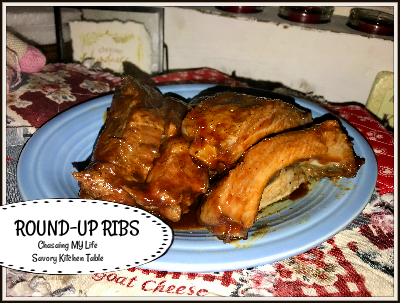 ROUND UP RIBS
More and more of my FAVORITE recipes are adapted from Taste of Home recipes that just looked too good to pass up. With this recipe the overnight chilling allows the seasonings to meld well with the meat.

This recipe may have has its original roots in the Calgary Stampede, an annual Western culture festival and exhibition in our province, but it's now a Pacific Northwest as well as a midwest favorite in our family.
4 pounds pork baby back ribs, cut into serving-size pieces
3 garlic cloves, FINELY minced
1 tablespoon sugar
2 teaspoons PAMPERED CHEF salt & vinegar seasoning
1 tablespoon sweet Hungarian paprika
2 teaspoons white pepper
Preheat oven to 325°.

Rub ribs with garlic and place in a roasting pan.

Bake, covered, until tender, about 2 hours.

Mix sugar, salt and vinegar seasoning, paprika and pepper.

Sprinkle evenly over ribs.

Remove from pan; cool slightly.

Refrigerate, covered, 8 hours or overnight.
SAUCE
2 tablespoons butter
1 small onion, FINELY chopped
1 cup jalapeno ketchup
1/4 cup packed brown sugar
Juice of 1 LARGE lemon
2 tablespoons Worcestershire sauce
2 tablespoons apple cider vinegar
1/8 teaspoon cayenne pepper
In a small saucepan, heat butter over medium heat.

Add onion and saute onion until tender.

Stir in remaining ingredients and bring to a boil.

Reduce heat, cooking uncovered 8-10 minutes, until thickened, stirring frequently.

Brush ribs with some of the sauce.

Grill, covered, 12-15 minutes over medium heat until heated through.

Turn occasionally and brush with additional sauce.

Serve with remaining sauce.