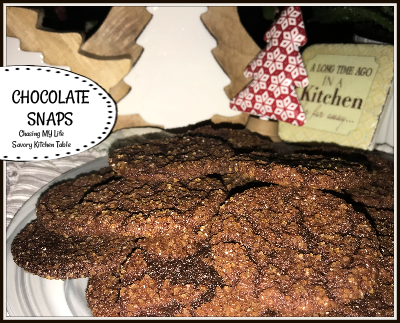 CHOCOLATE SNAPS yield 2 dozen cookies
Adapted only slightly from Cook's Country
With crisp edges, chewy centers and crunchy sugary crackled tops these cookies are always a hit, but never more so than at holiday time.
14 tablespoons unsalted butter, melted and cooled (168 grams)
1 1/2 cups plus 2 tablespoons all-purpose flour (230 grams)
3/4 cup Ghirardelli unsweetened cocoa powder
1/4 teaspoon baking powder
1/2 teaspoon baking soda
1/2 teaspoon sea salt
1 3/4 cups packed dark brown sugar (300 grams)
1 tablespoon PURE vanilla extract
1 LARGE egg plus 1 LARGE egg yolk
1/3 cup granulated sugar
Preheat the oven to 350°.

Line two baking sheets with parchment paper or SILPAT mats.

Melt your butter and allow it to cool.

Whisk together the flour, cocoa, baking powder, baking soda and salt together in a bowl.

Whisk together brown sugar, vanilla, and melted butter until no lumps remain, scraping down bowl as needed.

Whisk in whole egg and egg yolk until smooth.

Stir in flour mixture JUST until combined.

Layer granulated sugar in a shallow bowl; set aside.

Roll 2 tablespoons dough at a time into cookie balls.

Roll each cookie ball in the granulated sugar to coat.

Arrange dough balls evenly on prepared sheets.

Press each ball flat until they are 2 inches in diameter.

Evenly sprinkle remaining granulated sugar over cookies.

Bake 15 minutes – 1 sheet at a time – until cookies are slightly puffy and edges have begun to set (cookies will look raw between cracks and seem undone AND THAT'S OKAY), rotate sheet halfway through baking time.

Let cookies cool on sheet for 5 minutes.

Transfer to wire rack.

Let cookies cool completely.