I originally found this recipe in an old Taste Of Home magazine and it's now a family favorite. It's perfect for a crowd or a church potluck. You'll get lots of requests for the recipe 😀

I altered it a bit to accommodate my mustard allergy, but it's absolutely delicious!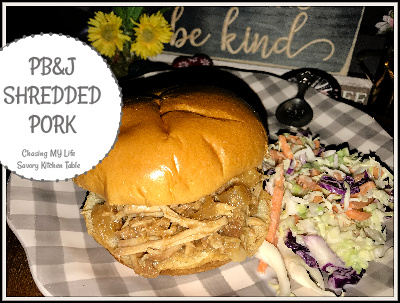 PB&J SHREDDED PORK
3-4 pound boneless pork shoulder butt roast
FRESH ground sea salt and black pepper
2 cups homemade chicken stock
1 cup creamy JIF peanut butter
3/4 cup SMUCKERS apricot pineapple preserves
1/4 cup PACKED brown sugar
1/4 cup finely choppedVidalia sweet onion
1/4 cup apple cider vinegar
3 tablespoons Bragg's liquid aminos
8 ounce can crushed pineapple with juice
1-2 garlic cloves, FINELY minced
2 tablespoons butter, melted
6 ciabatta rolls, split
Coleslaw, optional
Generously sprinkle roast with FRESH ground salt and pepper.

Transfer to a 5 quart slow cooker.

In a large bowl, whisk together the broth, peanut butter, preserves, brown sugar, onion, vinegar, liquid aminos, pineapple and garlic.

Pour over meat.

Cook, covered, on low 6 hours or until meat is tender.

Preheat broiler.

Remove roast; cool slightly.

Shred pork with 2 forks.

Return pork to slow cooker; heat through.

Brush butter over cut sides of rolls.

Place rolls, buttered side up, on an ungreased baking sheet.

Broil 3-4 inches from broiler for 30-60 seconds or until golden brown.

Using a slotted spoon, spoon pork mixture onto roll bottoms, top with coleslaw if desired and replace tops.