This is another recipe from an old antique recipe box that became an instant keeper for our family. The flavorful meatballs and light delicate sauce make this a refreshing meal for any time of year.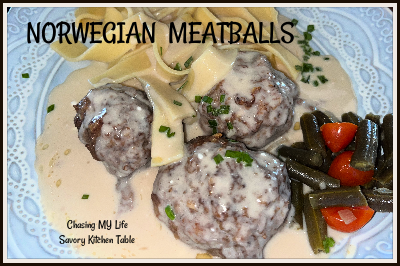 NORWEGIAN MEATBALLS
Prep Time: 45 minutes Cook Time: 40 minutes Rest Time: 5 minutes
Total Time: 1 hr 30 minutes Servings: 12
MEATBALLS
1 cup torn croissants
½ cup WHOLE milk
2 LARGE eggs
1 LARGE onion, FINELY grated
+/- 1 tablespoon FRESH grated ginger
+/- 1 tablespoon FRESH ground salt, to taste
1-2 teaspoons FRESH ground nutmeg, to taste
2-3 cloves garlic, FINELY minced
1 ½ teaspoons FRESH ground black pepper
3 pounds LEAN ground beef
Preheat the oven to 400°.

Grease a LARGE baking sheet. 


Combine bread pieces, milk, eggs, onion, ginger, salt, nutmeg, garlic, and pepper in a mixing bowl. Let stand 10 minutes until bread absorb all the milk.

Stir until just mixed and add ground beef mixing until well blended.

Shape mixture into 1-inch meatballs and place on the prepared pan. 


Bake 20-30 minutes in the preheated oven until browned.

Set meatballs aside to rest while you prepare the gravy.
GRAVY
3 tablespoons butter
2 tablespoons minced onion
5 tablespoons WONDRA flour
4 cups HOMEMADE beef broth
½ cup sour cream
1 dash cayenne pepper
FRESH ground sea salt and black pepper, to taste
Melt butter in a large skillet over medium-high heat.

Sauté onion until tender, about 3 minutes.

Whisk in flour and cook 2-3 minutes until lightly browned.

SLOWLY add broth; cooking and stirring gravy 5-10 minutes until smooth and thickened. Blend in cream, cayenne pepper, and black pepper. 

Gently layer cooked meatballs into the gravy and

SLOWLY

simmer, heating through 5 minutes or so, but

DO NOT BOIL.




Serve over wide egg noodles, mashed potatoes or rice.
NOTES: These meatballs freeze wonderfully!