For years I made this simple and classic Bisquick coffee cake from the back of the box, but I doctored it up my way. So recently I went looking for Bisquick's original recipe and was surprised to find MANY versions of it by several bakers. The only thing I found in common was the use of Bisquick and most people did what I'd been doing for many years ~ double the ooey gooey streusel!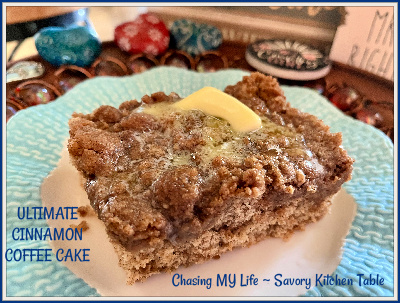 MY RECIPE for the ULTIMATE COFFEE CAKE
STREUSEL TOPPING
2/3 cup Bisquick®
2/3 cup PACKED brown sugar
4 tablespoons butter, softened
1 tablespoon QUALITY ground cinnamon
1/3-1/2 cup golden raisins
1/3-1/2 cup chopped walnuts (optional)
Combine the baking mix, brown sugar, cinnamon, and butter with a pastry blender or fork until crumbly.

Fold in nuts and raisins, if using. Set aside.
CAKE
2 cups Bisquick®
2/3-3/4 cup WHOLE milk
3 tablespoons sugar
1 LARGE egg
1 teaspoon PURE vanilla extract
1 tablespoon QUALITY ground cinnamon
Preheat the oven to 375°.

Grease a DEEP 9-inch baking dish.

In a large bowl, combine baking mix, sugar, cinnamon, milk, and egg together, mixing well.

Pour the mixture into the greased baking dish.

Spread the topping evenly over the cake batter.

Use a knife to swirl the streusel topping into the cake.

Bake 25-30 minutes or until a toothpick comes out clean.

Pour a cup of coffee and enjoy!
NOTES:
BISQUICK is the ONLY baking mix that works EXACTLY right in this recipe. Substitute other brnads at your own risk 😀

For really ooey and gooey streusel double the amounts.

When I'm feeling a bit naughty I soak the raisins in a spiced rum first. Be sure to drain them well before adding them to the streusel.
Here are the links to a few of the similar recipes I found.
MY BAKING ADDICTION'S  Yield 8-10 servings
This version of the same basic coffee cake gets its tang from sour cream and has a little twist using either pumpkin pie spice or apple pie spice instead of plain cinnamon PLUS a bit of a crunch from pecans though I prefer walnuts.
BISQUICK COFFEE CAKE
STREUSEL TOPPING
⅔ cup Bisquick mix
⅔ cup packed light brown sugar
1 teaspoon pumpkin pie spice
¼ cup unsalted butter, cold
½ cup chopped pecans (optional)
In a medium bowl, stir combine ⅔ cup Bisquick, ⅔ cup brown sugar and 1 teaspoon pumpkin pie spice. Use a pastry blender to cut in the butter until well combined and only small pieces of butter are visible.

Stir in the pecans. Set aside.
CAKE
2 cups Bisquick mix
2 tablespoons light brown sugar
½ teaspoon pumpkin pie spice
⅔ cup sour cream
¼ cup milk
1 egg
1 teaspoon vanilla extract
Preheat oven to 375°F.

Spray a 9-inch round cake pan with cooking spray. Set aside.

In a large bowl, whisk together the remaining Bisquick, brown sugar, and pumpkin pie spice.

Stir in the sour cream, milk, egg, and vanilla until well combined.

Spread half of the cake batter into the bottom of the greased cake pan.

Sprinkle evenly with half of the streusel.

Top evenly with the remaining cake batter, followed by the rest of the streusel.

Bake for 30-35 minutes, or until a toothpick inserted into the cake comes out clean.