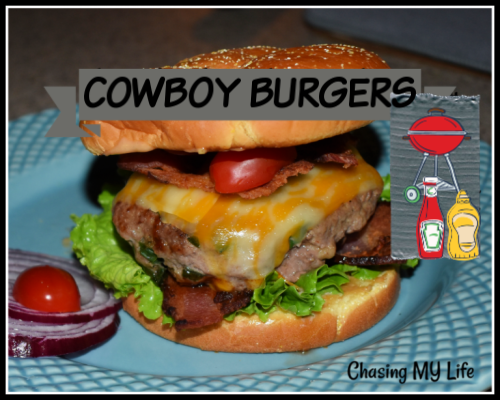 COWBOY BURGERS – 8 burgers
1 pound ground beef
1 pound ground pork
1/2 cup finely chopped Pastrami
2 teaspoons onion powder
1 teaspoon smoked paprika
FRESH ground sea salt and black pepper, to taste
1 tablespoon Worcestershire sauce
1/4 cup Sweet Baby Ray original BBQ sauce
8 slices QUALITY cheddar cheese
French's crispy onion rings or crispy bacon (optional)
Gently blend all the ingredients  except the cheese slices and onion rings together.
Form 8 patties.
Split buns and lightly butter. Set aside.
Heat grill to medium high.
Grill 3-4 minutes, flipping once per side for medium rare burgers.
Top burgers with cheese.
Place buns, split sides down on grill.
Close grill a couple minutes until cheese is melted and buns are lightly toasted.
Place burger on bun, top with onion rings and condiments.
Serve warm.