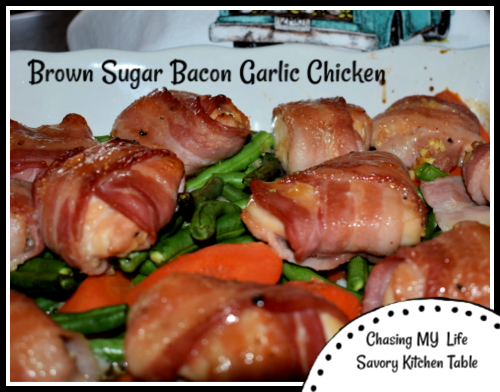 BACON BROWN SUGAR GARLIC CHICKEN
This is the PERFECT weeknight recipe! There are few ingredients that produce a sticky and crisp yet sweet garlicky taste for a quick meal.
2/3 cup PACKED brown sugar
3-4 cloves garlic, minced
FRESH ground sea salt and black pepper
6 boneless, skinless chicken breasts, cut into large chunks
12 slices bacon
Chopped parsley, for garnish
Preheat oven to 375°.
Lightly spray a deep dish baking dish with non-stick spray.
In a large bowl add the brown sugar, garlic, salt and pepper and mix until combined.
Coat the chicken in the brown sugar mixture, pressing to adhere.
Wrap each piece of chicken with two slices of bacon in such a way that the ends are under the chicken to prevent it from unwrapping while cooking. I put them on a bed of green beans, onions and sliced carrots to make a one pot dish.
Top with the remaining brown sugar mixture.
Bake for 25-30 minutes or until cooked through and browned with the bacon crisp.
NOTE: Be careful to not let the brown sugar burn or blacken.