These pineapple spears are coated in a buttery brown sugar apple cinnamon glaze that caramelizes on the grill! It also pairs perfectly with a citrus carne asada!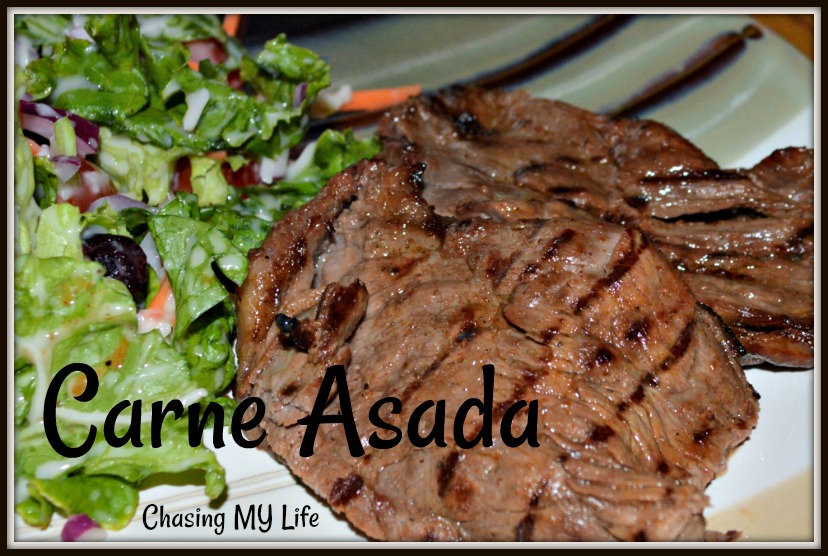 CARAMELIZED GRILLED PINEAPPLE Serves: 4-6
Adapted from the Recipe Critic, Alyssa
One large ripe pineapple cut into spears
½ cup brown sugar
½ cup butter, melted
1 teaspoon cinnamon
1 teaspoon apple pie spice
In a shallow baking dish lay the pineapple spears in a single layer pan.
Sprinkle lightly with cinnamon.
Whisk together the butter, brown sugar and apple pie spice. It needs to be thin enough to easily pour over the pineapple – microwave a few seconds if necessary.
Pour over top of the pineapple spears.
Grill for about 7-10 minutes or until it is starting to turn golden brown and has gorgeous grill marks.
Brush with excess sauce from the dish before serving.
According to Wikipedia Carne asada is a roasted beef dish, literally meaning "roasted meat"[1][2]. The dish mainly consists of pieces or thin cuts of beef (e.g. flank steak, skirt steak), sometimes marinated, sometimes lightly salted or rubbed with salt, pepper and/or spices, and then grilled. It can be eaten alone, with side dishes, chopped and eaten as tacos, or chopped and used as filler for tortas, burritos, etc. It is commonly accompanied with guacamole, salsa, beans, and grilled scallions and tortillas.
The dish is commonly prepared in the northern parts of
Mexico
(in the states of
Baja California
,
Baja California Sur
,
Coahuila
,
Sonora
,
Sinaloa
,
Chihuahua
,
Nuevo León
, and
Tamaulipas
) as well as in the American Southwest (especially
Texas
and
New Mexico
). It can be found as the main ingredient in
tacos
,
tortas
,
burritos
and
fajitas
, or is simply served as a stand-alone. It is sold at Mexican meat markets called "carnicerias" in the American Southwest; especially those states with Mexican/Mexican-American enclaves.
When purchasing carne asada from meat markets, consumers have two options available to them regarding the amount of preparation the steak has undergone pre-purchase: preparada, marinated meat as described above, serving as a time-saver for the home cook but typically at higher cost; and no preparada, unprepared meat, allowing for a home cook to create one's own marinade. I buy unprepared meat and doctor my own.
All my pictures are before as we're having it for dinner tonight. I'll add an after picture later.
CARNE ASADA
2-3 pounds flank or skirt steak, sliced THIN
1 medium Vidalia onion, sliced thin
2 lemons, 1 sliced thin, 1 wedged for squeezing
1 lime, sliced thin
1 orange, sliced thin
1/3 cup champagne vinegar
2 teaspoons minced garlic, jar
1 teaspoon FRESH ground sea salt
1 teaspoon FRESH ground black pepper
1 teaspoon ground white pepper
1 teaspoon garlic powder
1 teaspoon chili powder
1 teaspoon dried oregano
1 teaspoon ground cumin
1 teaspoon Hungarian paprika
Soak the meat in the vinegar for an hour or so.
Remove meat from vinegar and dry on paper towels.
Sift together all the seasonings and rub into the meat on both sides.
Layer the meat into a container alternating with the slices of lemon, limes, oranges and onions squeezing lemon juice on each layer as you go.
Let marinate for overnight or a day or so.
Grill on a VERY hot grill to desired doneness, 2-3 minutes per side.
Serve with warm tortillas, Fresh Guacamole and Fresh Garden Salsa.