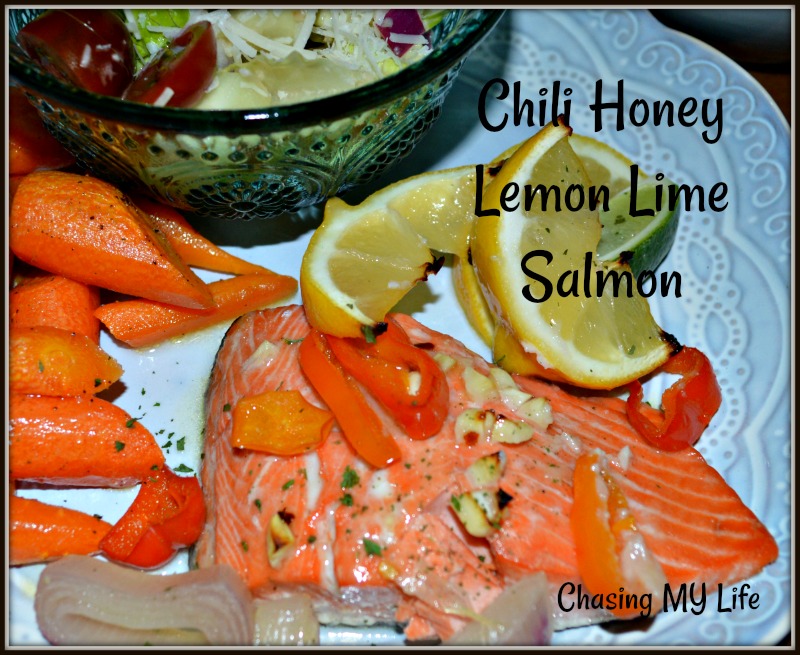 CHILI HONEY LIME SALMON
2 limes – 1/2 cup freshly squeezed lemon and lime juice (about 1 lime and 1 lemon juiced) and 1 lime cut into wedges
1/4 cup FRESH chopped Italian Parsley
2 tablespoons olive oil
2 tablespoons water
4 garlic cloves, minced
+/- 1 1/2 teaspoons red chili flakes (based on spice level preference)
1 1/2 teaspoons sea salt
1 tablespoon honey
4 FRESH salmon fillets
4-6 baby sweet red, orange, yellow bell peppers, de-seeded and diced
1 large shallot, sliced thick
Preheat oven to broil settings on high heat.
Cover baking sheet with foil.
Spray foil with cooking oil spray; set aside.
Whisk together lime juice, parsley, olive oil, water, garlic, chili flakes, cumin and salt together to combine.
Add the honey and whisk again until well combined.
Arrange the salmon fillets, peppers and onion in a single layer on the prepared baking tray.
Pour half of the marinade evenly over salmon, peppers and shallots, turning to coat well.
Broil until the peppers are just beginning to char at the edges and the salmon is cooked to your liking, about 10 minutes.
Remove from the oven and serve immediately with lime wedges and remaining marinade for added flavor.
Linking to FULL PLATE THURSDAY at Miz Helen's Cottage, MAKE IT PRETTY MONDAY at The Dedicated House, COOKING & CRAFTING with J&J AT Julie's Creative Lifestyle, SHOW and SHARE at Coastal Charm, CELEBRATE YOUR STORY at Celebrate & Decorate, DELICIOUS DISHES at Walking On Sunshine, MELT IN YOUR MOUTH MONDAY at Make Ahead Meals for Busy Moms and DISHING IT & DIGGING IT at Rustic & Refined.