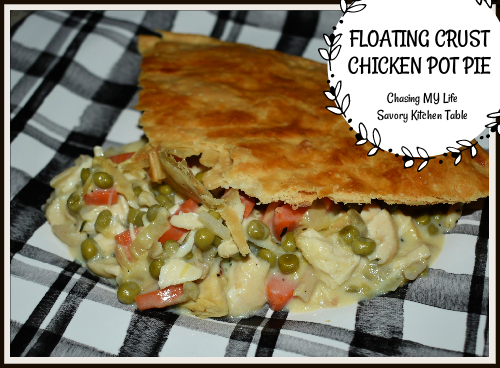 FLOATING CRUST CHICKEN POT PIE
1 pie crust OR a pre-made PILLSBURY pie crust
1 egg
4 tablespoon butter
1 LARGE shallot, diced
2 LARGE carrots, peeled and diced
4 cloves garlic, minced
3 tablespoons WONDRA flour
1 1/2 cups homemade chicken broth
1 1/2 cups WHOLE milk
FRESH ground sea salt and black pepper
1 tablespoon FRESH chopped thyme pieces
3 cups chopped cooked chicken *see notes
1 can LeSeur Peas, drained WELL
Preheat oven to 400°.

Roll the crust to 1 inch larger between two sheets of parchment paper.

Remove the top parchment paper.

Fold and crimp the outer edge to decorate the crust.

Arrange parchment on baking sheet.

Refrigerate 15 minutes.

Beat egg with 1 tablespoon water and brush crust. Save remainder for later.

Bake 10-12 minutes until LIGHT-MEDIUM golden brown.

Remove from oven to cool, but leave oven on.

In large skillet melt butter.

Add carrots and shallots, sauteing and cooking 8-10 minutes until carrots have softened.

Add garlic, sauteing 30 seconds more.

Add flour, stirring to blend.

Add chicken broth and milk, stirring regularly, until sauce thickens.

Add thyme, FRESH ground sea salt and black pepper.

Fold in the chicken pieces and peas.

Arrange crust on top.

Lightly brush with another layer of beaten egg.

Place pan in oven baking 10-15 minutes until crust is golden and filling is bubbly.
NOTES:
To make this recipe easier I use COSTCO rotisserie chicken pieces.

You can also use frozen peas, but I find the canned Le Seur peas are much more tender.