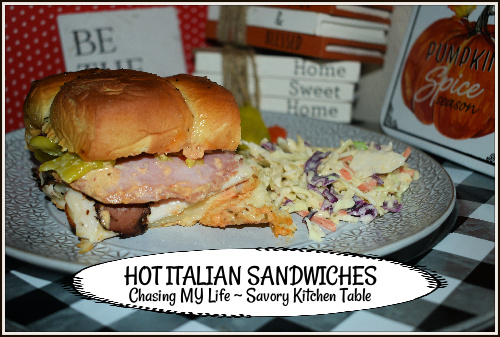 HOT ITALIAN SANDWICHES
1 package King's Hawaiian sweet rolls
1/2 cup QUALITY mayonnaise
2 tablespoons Classico tomato pesto
6 slices provolone cheese
6 slices Tavern ham
6 slices Hard Salami
6 slices oven roasted turkey
6 slices Pastrami
1 cup giardiniera, chopped small
1/2 cup shredded Parmesan cheese
1 cup FRESH basil leaves
1/2 SMALL red onion, sliced thin
1/4 cup River House Parmesan Herb dressing (or a zesty Italian)
Pepperoncinis, garnish
Giardiniera, garnish
Preheat oven to 350.

Slice the rolls horizontally in half.

Lightly spray a 11×7 baking dish with non-stick cooking spray.

Whisk together the mayonnaise and pesto until well blended.

Spread mayonnaise mixture over the cut rolls.

Place roll bottoms in baking dish.

Layer the provolone cheese followed by the meats in an even layer.

Add basil in a single layer followed by the red onion slices and giardiniera.

Sprinkle with Parmesan cheese.

Place roll tops over the ingredients.

Gently press to flatten.

Bake 10 minutes.

Remove from oven and and brush with dressing.

Bake another 5 minutes.

Cool slightly before slicing.

Serve with pepperoncinis and giardiniera.