This is a modern updated version of the "DUMP" cake from the 80's. I really like this version for the convenience, BUT that said, I miss the extra crisp from oven version.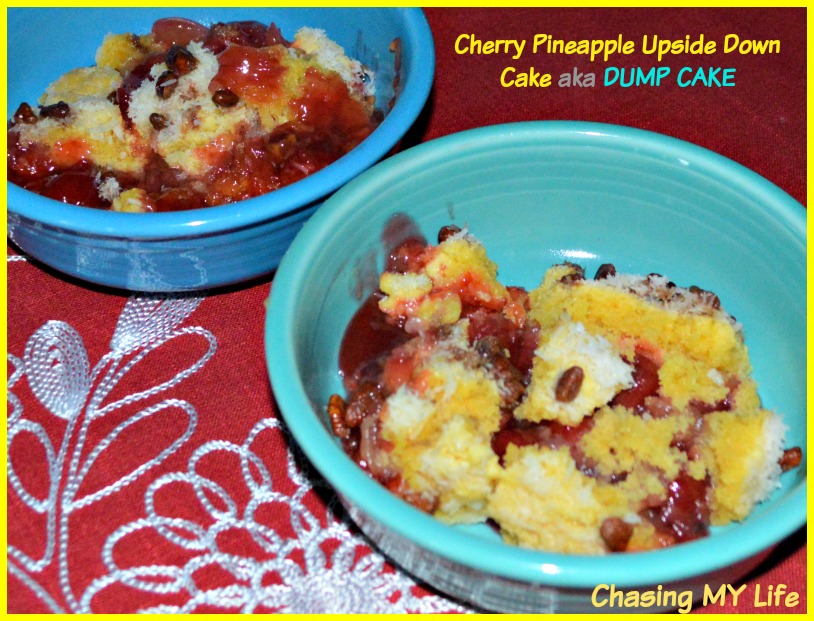 CHERRY PINEAPPLE UPSIDE DOWN CAKE
20 ounce can Cherry Pie filling
2 – 8 ounce cans crushed pineapple
1 box yellow cake mix
1/2 cup sweetened coconut flakes
1/2 cup crushed walnuts or pecans (I used Fisher's Cinnamon pecan topping pieces)
1/2 cup butter, melted
Even layer the ingredients in the exact order listed in your slow cooker, drizzling the butter over everything last..
Cover and cook on high 3 hours.
Divide into ramekins and serve with fresh whipped cream or Vanilla bean ice cream.
NOTE: If you like a toasted effect, make sure you scoop out the cake into the ramekins so the coconut butter portion is on the top.  Place the ramekins under the broiler for 2 minutes OR  you can make the same recipe in a 13 x 9 baking pan in the oven at 350°.